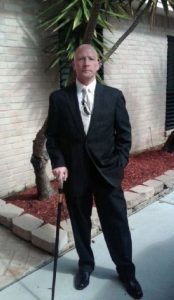 Gregory Howard Mason, 61, a 24-year resident of Friendswood, TX, passed away on October 1, 2022 at his home.  He was born in Hampton, VA on May 21, 1961, yet grew up in Pasadena, TX.  He always joked that at the age of 3, he packed up his family and moved them to Pasadena, Texas, so his father could continue his work for NASA at the newly opened Johnson Space Center.
Greg graduated from Sam Rayburn High School in Pasadena.  He then attended The University of Texas at Austin where he graduated Cum Laude earning a B.S. in Finance in 1987. He then married, Pamela Kepka in 1988 and started a family in nearby Clear Lake City. He later received his MBA from The University of Houston at Clear Lake.  He worked on many NASA contracts throughout his 24 years in the Aerospace Industry and became the Houston-Area Financial Business Manager for Ares Corporation before his career ended because of a debilitating progressive spinal disease.
He lived many years as a "Pain Warrior" and despite his disability, he still had a hunger for knowledge in all realms.  Greg certainly had a mathematical mind, but he also was a jack-of-all trades, a true Renaissance man.  He could converse on just about any subject and before his physical disability, he was a physical laborer by choice as a painter, a gardener, a mechanic, a plumber, an electrician, a handyman and amazed others with his vast knowledge and abilities.
Greg was passionate and generous by nature: from his interests in sports, fast cars, stray animals – to his wife and children and his career.  If you ever stopped by for a visit, you would have left with something, whether it be a koozie, a special beverage or a special memento or tidbit of information or advice that had a heartfelt meaning.
He is preceded in death by his mother, Caroline Mason; father, Robert Mason; and brother, Stephen Mason.
Greg leaves behind his wife of 34 years, Pamela Mason; son, Michael Mason; daughter, Madeline Mason-Stout and husband Adam; mother-in-law, Pat Kepka; sister-in-law, Denise Skyles; nieces, Britney Vega and Michelle Anderson.
The family will be holding a private ceremony to be scheduled at a later date.
In lieu of flowers, contributions can be made to: The Doctor-Patient Forum whose mission statement is:
Advocate. Educate. Defend.
To advocate, educate, and legislate on behalf of patients and their providers while equipping them with resources and tools to live quality-filled lives while also supporting the sanctity of the doctor/patient relationship.