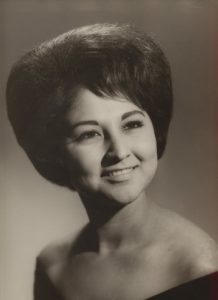 Passed away suddenly on March 18, 2017. She was born on November 4, 1945 to Bill and Theresa Ramirez in the Houston Heights. She was a lifelong Houston resident and attended Hamilton Jr. High and Reagan High School. While in Junior High she proudly served as a member of the Hamilton Indians drill team and in High School she was a member of the Reagan Redcoats. She remained engaged in Reagan High School activities, including the reunion planning committees, until her death. She was preceded in death by her parents, brothers Bill Ramirez Jr. and Joel Ramirez. She is survived by her sons, Devery Mooneyham and wife Katte, John Longnecker Jr. and wife Collette, daughter Christi Courson, brothers Mitchell, Paul, and sister, Janet. Gloria also had eight Grandchildren Jake, Chris, Kayla, Kris, Stephanie, Sarah, Cody, and Cameron and 6 great grandchildren.
Gloria served on the Board of Directors for the Southern Pacific Credit Union, a position she dearly loved. Gloria also enjoyed traveling to listen to her favorite band, the Grateful Geezers, as well as B.J. Thomas concerts. She proudly remembers B.J. Thomas as a childhood friend. Gloria was a lifelong collector of Windberg paintings and had assembled a sizeable collection of his works. If he had a show in the area, she was there and was on a first name basis with the artist. She was such an avid collector, his gallery would often refer calls to her when specific works were requested that were out of print. Gloria enjoyed the scenery of the Texas Hill Country and traveled there often when her health allowed.
Gloria was a devoted, loving Mother, grandmother, and sister, whose strength in the face of her illness, was admired. She never complained about her disability or the pain she was in.
The family wishes to thank long time friends, Ernest and Rose Valdez for helping her with her errands, Liz Barrow who spoke to her everyday, and Tim Adams for helping her with her SPCO duties.
Gloria was very loved and will be missed.
A memorial service will be held Saturday, April 1, 2017 at 11:00 a.m. at Crowder Funeral Home in Dickinson, Texas.