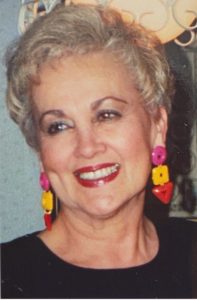 Gloria Heintjes, (better known as "Nany" to those who loved her most), was born in Del Rio, Texas on June 27th, 1926. Gloria passed away peacefully on Friday, March 4th, 2022 in Clear Lake, Texas.
Gloria graduated with a degree in education from Southwest Texas University and positively influenced the lives of countless elementary aged students throughout her career. After 30 years of teaching, she retired and became an active member of the Retired Teachers Association.
Gloria loved spending quality time with her kids and her grandchildren. She enjoyed cooking, a more than occasional shopping trip and a good glass of wine. She was strong in her faith and a member of the St. Bernadette Catholic Church. Gloria also liked to travel and taking cruises with her family.
Gloria is preceded in death by her two sisters Bertha Camunez and Jane Cherry. Gloria is survived by her daughter Denise Cother and her husband Loren and their daughter, Tiffany; her son Adrian Heintjes and his wife Michelle and their daughter, Jessica.
Nany will be deeply missed by her family and all who knew her, but she will always be in our hearts.
The family would like to thank everyone who played a role in making her life so special.