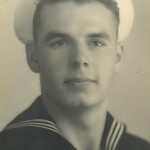 Glen Rudolph Walters, a loving husband, father, and grandfather, went to be with his "Lord and Savior" on February 15, 2014.
Glenn was born to Clara Lillian Brundrett Walters and Rudolph Walters on December 2, 1924 in Port Aransas, Texas. Glenn attended school in Port Aransas, Aransas Pass and Galveston. Glenn married Eva Thelma on Galveston Island in 1948 after serving 4 years in the navy during World War II. They were married for 58 years. He came to the Baptist faith in November 1949 and loved the Lord. His working life included Todd Shipyard and Union Carbide from which he retired after 28 years. Glenn was an outstanding outdoorsman, which included fishing, shrimping, and duck hunting.
Glenn is preceded in death by his wife, parents, and brothers Herbert and Stanley. He is survived by daughter Glenda Anthony of Bayou Vista, son Glen Walters and daughter in-law Marie of La Marque, grandchildren George, Robbie and Ryan, sister Lillian Fredrichson and husband George of League City, and brother; Jed Walters of Navasota.
Special thanks to the La Marque fire department, the ambulance service, and Mainland Hospital staff in the emergency room and I.C.U.
Visitation will be Thursday, February 20, 2014 from 2:00pm – 3:00pm with the funeral service to follow at 3:00pm at the James Crowder Funeral Home in La Marque with Dr. David Smith officiating.