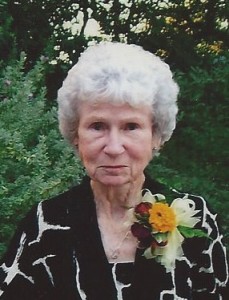 Gladys Evelyn (Sammie Jack) Scott Saunders Mackay went to be with her Lord Wednesday, October 14, 2015, at the age of 89.
She was born to Johnnie Estelle Bayes Scott and Sanford Scott in Boyd County, Kentucky, November 24, 1925.
She is survived by her husband, William (Bill) Mackay, her brother Gene Fuller, her children, Linda Saunders Johnson (Paul), Paul Saunders Jr (Patty), Robert Saunders (Pat), Brenda Saunders McDonald (Earl), and Dianna Saunders Stiles (Richard), her step-children Robert Mackay (Vicky) and Betsy Mackay Sowa (Melvin) and her grandchildren Jennifer Hobbs, Rachel Johnson, Jessica Schroder, Kenny Saunders, Melissa Saunders, Meschel Hara, Jason McDonald, Jeff Calhoun, Billy Mackay, Karen Mackay, Robert Mackay, Candace Sowa, Melanie Davison, her niece Judy Ann Lantier, 11 great grandchildren, numerous nieces and nephews. She also leaves behind three lifelong friends, Wanda Lou Baker, Dorothy McLaren and Shirley Welch.
She moved to Texas with her family when she was 14 where she would live the rest of her life. She graduated from Central High School in Texas City in 1944. Over the years she worked at the Tin Smelter in Texas City and as a meat wrapper at Big Chief and Texas Supermarket. She was a member of the meat cutters local UFCW. In 1980 she married Bill and during the summer months they spent their time traveling.
She truly loved her children and instilled in them the sense of family. Her family and friends loved her so. She was such a blessing.
Pallbearers will be Richard Stiles, Paul Johnson, Bobby Saunders, Jason McDonald, Jeff Calhoun, Bob Mackay, Robert Mackay, Chad Hara, Rustin Hara, Rylan Hara. Honorary Pallbearers are Paul Saunders and Earl McDonald.
The Family would like to extend a special thank you to the staff of Lakehouse on Dixie and to Connie Aleman of Resolutions Hospice and to the special care givers that gave so much of themselves we are grateful.
In lieu of flowers donations can be made to the Alzheimer's Association or Resolutions Hospice.
A visitation will be on Saturday, October 17, 2015 from 11:30am – 12:30pm at the James Crowder Funeral Home in La Marque. Funeral Service will be on Saturday, October 17, 2015 at 12:30pm at the James Crowder Funeral Home with Rev. Robert Miller officiating. Burial will follow at Grace Memorial Park in Hitchcock, Texas.