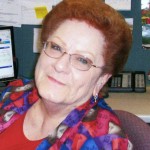 Geraldine Graham 75, resident of Friendswood, Texas, passed away October 17, 2014 in Webster, Texas. She was born October 25, 1938 in Austin, Texas to parents, Frank and Mildred Speights.
She is survived by her son, Robert Graham; and her brother, Emmite Speights.
Visitation will be held from 5pm-8pm Monday, October 20, 2014 at Crowder Funeral Home in Dickinson, Texas.
Services will be held at 1:00 pm Tuesday, October 21, 2014 at Crowder Funeral Home Chapel in Dickinson. Interment will follow at Galveston Memorial Park in Hitchcock, Texas.