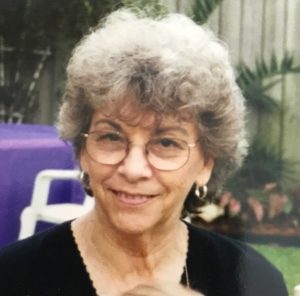 Gaynell Emelia Cibulski, a long-time resident of the Galveston County area, passed away Tuesday the 11th of October, 2016 at Jennie Sealy Hospital in Galveston.
Gaynell was born in 1936 in Long Beach, Mississippi to the late Doris and Bob Allen.  Gaynell graduated from Long Beach High School in May of 1954. She married Ronald Cibulski the following year in February and then again in May (Catholic service) 1955.
Gaynell was the Beloved Matriarch of a large close-knit family, a Wonderful Cook, (especially her fried chicken), a Master Seamstress, Quilter, and loved to play games.
Gaynell also loved good food and socializing, enjoyed sports (favorite teams were the Texans, Saints, Dickinson Gators, and Astros) loved Playing Cards with family and friends, loved Bingo and Gambling (she was very lucky!), and had a wonderful smile that could light up a room. She was always straightforward with everyone, would tell you the truth, and was a no nonsense kind of woman. She loved her husband, Ron, her children, grandchildren, great grandchildren and siblings with all her heart.
She is survived by her husband Ron, Children – June and husband Rodger, Jack and wife Valary, Russell and wife Pamela, Raymond, and Joseph and wife Michelle. Grandchildren – Joshua and wife Toni, Garland and wife Mindy, Justin and wife Katie, Loren, Carson, Dylan, Keelee, Reed, Carlee, and Cooper. Great grandchildren – Anthony, Hunter, Haley, Aiden, and little Jack.  Sisters – twin sister Adell, and little sister Janet and husband Chunnie, Brothers – Clell and wife Pat and Darrell and wife Tammy.
A viewing will be held on Monday, October, 17th 2016 at Crowder Funeral Home on the corner of Hwy 517 and FM 646, from 4 – 5 pm for family and 5 pm till 7 pm for everyone else. The funeral will take place at 10 am on Tuesday, October 18th at Crowder Funeral Home with the burial at 1:15 pm at the Houston Memorial Cemetery, (veterans cemetery).
Proverbs 31:25-31 New International Version (NIV)
25 She is clothed with strength and dignity;
she can laugh at the days to come.
26 She speaks with wisdom,
and faithful instruction is on her tongue.
27 She watches over the affairs of her household
and does not eat the bread of idleness.
28 Her children arise and call her blessed;
her husband also, and he praises her:
29 "Many women do noble things,
but you surpass them all."
30 Charm is deceptive, and beauty is fleeting;
but a woman who fears the Lord is to be praised.
31 Honor her for all that her hands have done,
and let her works bring her praise at the city gate.