Gary R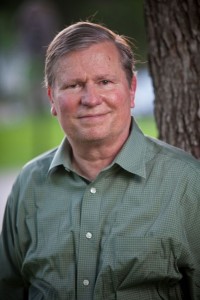 aymond Barron was born on August 23, 1943 in the city of Houston, Texas. He lived with his Mom and Dad, Jessie and Doris Barron. He was the oldest child of his siblings a brother Wayne and a sister, Sharon.
Gary graduated from Austin High School and went to Texas A & M University. Before attending collage he meet a girl named Diane Morris at age 16. He was in love with this girl and they married his last year of college. They lived on the college campus their first year of marriage. He graduated and they had their first child, Jamie Lynn Barron. He then moved to Houston, Texas where he began his first job as an engineer.
After a few years Gary and Diane had another little girl, Laura Ann, and then a son, David Sean.
They became members of the Worldwide Church of God in 1969 and Gary was involved in playing the piano for the church and church choir. He also enjoyed hunting and fishing. Gary and his wife both shared in caring for the YOU for 7 years.
In 1984 Gary was assigned a job in the Netherlands and he moved there with his family where he lived for 13 years. In 1997 he moved back to the Houston area after becoming  a Grandpa of 3 grandchildren at that time.  When returning to Houston, they built a home in Spring, Texas and he had a job with Halliburton Engineers. In 2002 he had a mini stroke and found out he needed to have a triple bypass surgery.  After recovering from this he had a difficult time with depression During this time his son met a girl named Bonnye Cordero to be his bride from which came 4 children,  David, Noah, Joshua, and Olivia. They live here in League City, TX.  Gary's oldest daughter Jamie married a dutchman named Erik deMoei and they have 2 children, Derrik and Jennifer. His second daughter married Steve Sanders and have 4 girls, Janessa, Katy, Emma Mae, and Christina who live in Albuquerque NM. This made a total of 10 grandchildren for Gary and Diane.
Three weeks ago Gary was rushed to the hospital while having a heart attack and pneumonia.  His heart attack left him with only 20 percent of his heart working and with an unknown infection.
He was doing better but not well enough to go home so they put him in a home to finish his recovery where he ended up having heart failure and in three days died in the afternoon on August 10th around 2:15.
We as a family will truly miss him. Even though our belief is different in God's way. We all want to trust in God and have a deep commitment and loyalty to Him and to each other. In difficult trials or in happy outings some of our experiences that we shared with Gary through the years and while living in the Netherlands were memorable. Some more than others. In the last few days in the hospital Gary was supported and shown love too, by his wife Diane, son David and daughter Laura Sanders. We were comforted by the peace and rest in his eyes he had for us.
Gary's wife, Diane and their three children thank God for the good memories they shared. Gary and Diane were married for over 52 years. God has always been here for our family to help and comfort us with His truth and knowledge to keep us together. Diane thanks God for the blessing of all her children and grandchildren. Diane thanks God for the comforting words and last conversation that she was able to have with her husband before he had heart failure and couldn't speak anymore. Gary's last words to his wife, in a loving tone were, "Diane, please don't leave me."
A Celebration of Life Ceremony will be held on Sunday, August 14, 2015 at 10:30am at Crowder Funeral Home in League City.