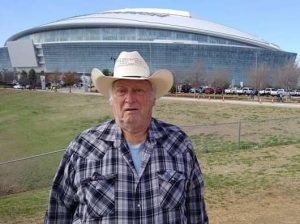 Frank Ferguson, 82, of Santa Fe, went to be with the Lord on Monday, July 22, 2019. A lifelong resident of La Marque and Santa Fe, Frank was born March 15, 1937, in Galveston.
He graduated from La Marque High School in 1955 and served as a paratrooper in the 82d Airborne Division at Fort Bragg, North Carolina. He delivered mail for the post office in the early 1960s, then in 1967 went to work at GAF (now ISP) when the plant opened and worked there until he retired. He also served his community as a volunteer fireman, a Mason, and a frequent contributor of his time and resources to a variety of worthy causes and people in need.
Deep in his Texas heart, Frank was a cowboy. His Grandfather Elam rode cattle drives and drove stagecoaches for Wells Fargo in the Old West, and young Frank loved to hear those stories. He and his daughter, the late Kathy Bland, followed the rodeo circuit one year after his retirement, and many will remember his longhorns and other cattle and horses. In retirement, he also traveled all over the country, went on cruises, and devoted himself to his daughters Kathy and Cheryl and their families. When he married again to the late Rose Ferguson, he acquired a large collection of new relatives, including four stepchildren, an increasing herd of grandchildren, and a multitude of in-laws.
Frank is survived by his daughter Cheryl Marlin, son-in-law Mike Bland, grandchildren Craig Bland, Matthew Bland, and Jonathan Silva, great-grandchildren Tyler, Laney, Sydney, and Garrett Bland, stepsons James and John Bowen, stepdaughters Marcel Bowen and Joyce Montemayor, step grandchildren Alex Montemayor and Joseph, Scott, Jordan, Brian, Reid, Reagan, and Hunter Bowen, and all their spouses, children, and extended families. He joins his parents Ray and May Ferguson, his daughter Kathy Bland, and his wife Rose Ferguson.
A visitation will be on Friday, July 26, 2019 from 5:00pm – 8:00pm at the James Crowder Funeral Home in La Marque.  Funeral Service will be at 2:00pm on Saturday, July 27, 2019 at the Funeral Home with Pastor Richard Prather officiating.  Burial will follow at Forest Park East Cemetery in Webster, Texas.