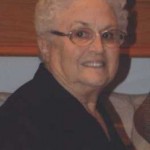 Eunice B. Tyer, 86, longtime resident of Galveston County, passed away August 30, 2014, in Texas City, Texas. She was born June 8, 1928, in Midland, Texas to parents, John P. Mooney and Dora J. Mooney.
She retired from NASA after twenty years of service.
She was preceded in death by her husband Clyde Tyer and granddaughter, Rebecca J. Tyer.
She is survived by her daughter, Linda Turnbough and husband Lonnie; sons, Don Tyer and wife Barbara, Tony Tyer and wife Kathryn; sister, Billie Cullinan and husband Dennis; brother, Darrell Mooney and wife Shirley; grandchildren, Cheryl Wooten and husband Michael, Dawnette Patrick and husband Leon, Tracie Viator, Leslie Buck and husband William, Lorie Alvarado and husband Mario, Levi Tyer and Clayton Tyer; eight great grandchildren; and two great great grandchildren.
Visitation will be held from 6 p.m.-8 p.m. Tuesday, September 2, 2014, at Crowder Funeral Home in Dickinson, Texas. Funeral Services will be held at 10 a.m. Wednesday, September 3, 2014, at Crowder Funeral Home Chapel with interment following at Forest Park East Cemetery in Webster.
Don Tyer, Tony Tyer, Levi Tyer, Clayton Tyer, Jacob Patrick, and Tyler Buck will serve as pallbearers.
In lieu of flowers, memorial donations may be made to Make a Wish Foundation, 12625 Southwest Freeway, Stafford, TX 77477, or texgulf.wish.org.