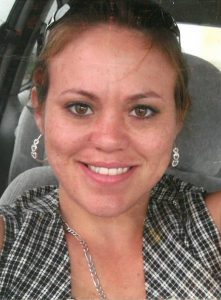 Erica Lynn Roberts, 31, of Texas City, Texas passed away on February 3, 2017 at her home. She was born on June 10, 1985 in Palestine, Texas to Connie Duke. She was married to Cruz Mario Torres.
Erica was a loving mother to her three children and a certified dental hygienist.
She was preceded in death by her grandparents: Orene Y'Barbo, Merrill Y'Barbo, and Durwood Roberts.
Erica is survived by her mother, husband, grandmother, Joan Roberts, 3 children: Alexus Torres, Giovanni Cruz Torres, and Gauge Hubbard (Son's father, Landon Hubbard). Her aunts, uncles, nieces and nephews; Wendy and Brandon Wortford, Merril Seth Wortham and Marrisa Wortham, Shanely Mullenax, Matthew McGown , Madison Mullenax; Amy and Andre Roberts, Zachary Schlagal, Jayland Bennifield and Caden Alvarado Roberts; Brittney Jolene Roberts, Lisa Wilkerson and Timothy; James and Kelli Gunnels, Josh Gunnels and great uncles Richard Y'Barbo , Keith Y'Barbo and Josh Y'Barbo.
A visitation will be on Friday, February 10, 2017 from 6:00pm – 8:00pm at the Crowder Funeral Home in La Marque. Funeral Service will be at 1:00pm on Saturday, February 11, 2017 at the Crowder Funeral Home with Pastor Arthur Lowe officiating. Burial will follow at Galveston Memorial Park Cemetery in Hitchcock, Texas.