Elia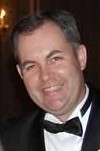 s "Eli" Mark, a Houston attorney, died in Houston, TX on December 14, 2014 from complications associated with cancer. He was 43 years old.
Eli is survived by his wife of 15 years Amanda Mark and their three daughters Allyson, Katherine (Kate) and Madeline. Surviving family members include his father Richard Mark and wife Ellis Robinson, mother Seny Bynum and husband Jack Bates, brother Ben Bynum, father and mother-n-law Manon and Ed Poole, brother-n-laws Ed Poole, Jr. and wife Carolyn, Michael Poole and wife Diana, Patrick Poole and wife Joy, stepmother Ellis Robinson, stepfather Jack Bates, nieces and nephews Josh Poole and wife Janine, Matt Poole, Travis Poole, Ilona Poole, Alyssa Poole, DeeDee Poole, Willow Bynum, Olivia Bynum, great niece and nephew Finn Poole and Emme Poole and many other loving family and friends.
Born in Concord, NH, Eli spent his childhood exploring 100 acres of woods, and racing motorcycles and cars. He was a graduate of American University and University of Houston Law School. Eli's early career began as an intern at the White House. After which he worked for the White House Deputy Chief of Staff for two years in the Clinton White House. Eli then moved to the Federal Emergency Management Agency (FEMA), spending several years traveling the US working on disaster recovery and later developing emergency plans in Central and South America. As a Fellow of the Brookings Institute, Eli worked for the late Senator Ted Kennedy. In 2004, he began his legal career at the Baker & Mackenzie law firm as a litigator specializing in International Arbitration. In 2012, he became a Senior Litigation Counsel at Weatherford International.
Eli enjoyed working, mentoring law students, coaching a Moot Court team at the University of Houston Law center, mentoring young couples at church, traveling, listening to music and participating in his daughters' many activities. Eli will be remembered as a loving husband, a devoted father and a kind and generous person with a quick wit. He was always willing to lend a hand and enjoyed working quietly behind the scenes. Eli was a tremendously strong person with a beautiful heart and a calm demeanor, who without ever seeking the spotlight accomplished amazing things.
Visitation and rosary will take place on Friday, December 19th from 5-8pm at Crowder Funeral Home located at 1645 East Main Street, League City, TX. A funeral service will be held on Saturday, December 20th at 10:00am at St. Mary Catholic Church located at 1612 East Walker Street, League City, TX.
In lieu of flowers, the family asks that donations be made to St. Mary Catholic Church (1612 East Walker Street, League City, TX 77573) ACTS Ministry program, Sant Bani School (19 Ashram Road, Sanbornton, NH 03269), or a charity of your choice.