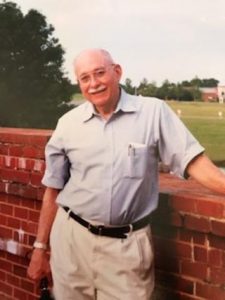 Dr. John Franklin Stokes, beloved husband, father, friend and physician left us to see God on February 18,2021.  He was preceded in death by his father, Charles Eugene Stokes, and mother, Esther Lawlis Stokes.
Frank, as he was called by all who knew him, was born in Abilene, Texas on July 5, 1931.  Frank grew up in Lampasas,Texas  with his older brother , Charles Eugene Stokes, Junior, a current resident of San Angelo, Texas.   Frank always remembered his childhood as a very happy time with many friends and family.
After graduating from high school in 1947 at 16, Frank went to Texas Tech with a scholarship in textile engineering.  During his first year there he decided he wanted to become a physician and transferred to the University of Texas.  He graduated in 1953 and was accepted at Southwestern Medical School in Dallas. He graduated in 1957 and began internships in Wichita, Kansas.  He Joined the Air Force in 1958 with the rank of captain and promptly was sent to Goose Bay, Labrador.  He recalled the freezing temperatures, wonderful Canadians and the lobsters often. Later he had postings in El Paso and Topeka, Kansas.
After deciding to specialize in obstetrics and gynecology Frank began his residency in 1961 at Hermann Hospital in Houston.  He also did a psychiatry program at Menninger Clinic in Kansas.
Frank practiced medicine in Lake Charles, Texas but decided to move with his family to San Antonio in 1969.  After setting up practice with another doctor he championed many innovative systems such as allowing fathers in the delivery room with their wives.  He was Chief of Staff of Ob-Gyn at Methodist Hospital for several years, a member of the Maternal Mortality Committee for the state and several other organizations.
Once, when asked how many babies he had delivered he answered, "thousands and every one was beautiful." He worked diligently and wanted the best for all his patients.
Frank was a member of The Sons of the Republic of Texas and various medical and religious organizations.  He loved his job, his friends and his family.
Dr.Stokes leaves behind his dearly loved wife of 35 years, Stephanie Stokes. His daughter Mary and husband Ed Myslik. His sons, John Stokes and wife Tina, Charlie Stokes and wife Lauren, and Stephen Stokes and wife Stephanie.  Also, left behind are 17 grandchildren and his brother and best friend Charles. His children and his grandchildren were the pride of his life and he loved them all.
A memorial service will be held at the family plot in Lampasas at a later date.
In lieu of flowers please send memorial contributions to an animal or veteran's charity of your choice.