Dr. Anna Lucille Kent Dewald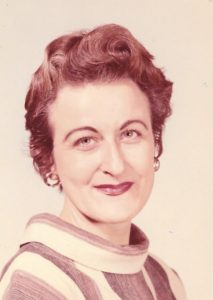 Dr. Anna Lucille Kent Dewald went to be with her Lord on Friday, August 11, 2017 in League City, Texas.
Anna was born in Quinlan, Texas on November 22, 1926 to Annie Lois Smalley Kent and Bartis William Kent.
Anna received her undergraduate degree from the University of Texas and her Masters and Doctorate of Education degree from the University of Houston.
She served as Dean of the College of Education at the University of St. Thomas in Houston for over 27 years.  At her retirement she received the title of Dean Emeritus.
Anna was an active member of Seabrook United Methodist Church and she served on the Board of the Evelyn Meador Library in Seabrook.
Anna was a proud member of Lakewood Yacht Club, the Women Who Wine charitable organization,  and the Ladies Association at Lakewood, of which she was a past president.
Anna was preceded in death by her husband, Lester James Dewald, a past commodore of Lakewood Yacht Club, her father Bartis William Kent and her mother Annie Lois Smalley Kent.
Anna is survived by her brother Joe Kent and his wife Polly, her brother Dr. Bartis Milton Kent and his wife Dr. Ann Kent, her niece Kendra Kent Vickers and her husband Brannon, her niece Susan Kent, her niece Martha Kent, and her nephew Mike Kent.  Also she is survived by her great nephew Kyle Kent and his wife Darya, her great nephew Connor Kent, her great niece Stella Vickers and her great-great nephew Christian Kent.
A Celebration of Life event to honor and remember Anna will take place on Saturday, August 19, 2017 from 10:00 a.m. to noon at Lakewood Yacht Club in Seabrook at 2425 NASA Parkway, 77586.
In lieu of flowers, the family encourages donations to the Dr. Anna K. Dewald Scholarship Fund sponsored by Kappa Delta Pi honor society in education at the University of St. Thomas in Houston.