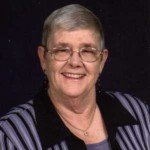 Doris Deats Burbank of Dickinson, formally of Alvin, beloved wife, mother, and grandmother, passed away Wednesday, January 29, 2014.
She was preceded in death by her husband of 49 years, Philip Burbank, and father, Wilson Deats.
She is survived by her mother, Phraulene Deats, her daughter, Phyllis (Bill) White, son, Deats (Ricci) Burbank, grandchildren, Joshua Burbank, Trey White, Brady Sage Burbank, and great-granddaughter, Trinity Rose Marie Burbank. Also surviving is her brother, Wyndell (Molly) Deats, nephew, Jack Deats, great-nephews, Dylan and Kody Cumberland, and numerous other relatives.
After graduating from Dickinson High School in 1958, she graduated from Southwestern University and received her Masters from the University of Houston in Music. She taught at Alvin Community College until she retired. She was a member of the Sam Houston Chapter of DAR, past-president of TJCTA, a volunteer at the Grand Opera House in Galveston, and a member of the Agalian Study Club. She taught private music lessons and directed years of musical theatre productions.
She was an active member of the Dickinson First United Methodist Church, serving on numerous committees including Food Service, where she led the 3rd Wednesday team and the Laughter, Lunch and Literature Book Club. She started playing the piano and organ for the church at age 12.
Visitation will be Friday, January 31st from 6-8 pm at Crowder Funeral Home, Dickinson. A celebration of life service will be at 2 pm Saturday, February 1st at the Dickinson First United Methodist Church. In lieu of flowers, the family suggests contributions to the Dickinson First United Methodist Church Memorial Fund, or a charity of your choice.
Doris had such a warm, loving personality; she will be greatly missed by her family and friends. The family prays you will remember all the good times she shared with you.