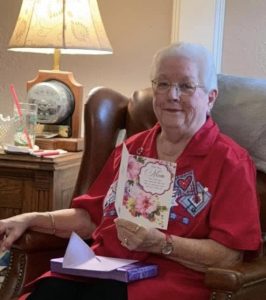 Donell Parker, 82, beloved Mother, Grandmother and Great Grandmother and resident of Friendswood, TX, passed away December 23, 2022.  Donell was born in Nacogdoches, TX on September 6, 1940. She was a graduate of Milby High School and was employed with Walgreens on Parkwood in Friendswood for 20 years. Donell was known for her vivacious personality and compassionate heart. She was quick to take new employees at Walgreens under her wing and show them the ropes. Donell would have given anyone the shirt off her back and cared for her loved ones deeply. If she wasn't curled up with a good book, you could find her antique shopping, crocheting, or watching a western movie. She had many crafting skills and made numerous homemade gifts for her loved ones, and was a fabulous baker of pies. She will be missed greatly by her family and friends.
She is preceded in death by her son, Don Parker; parents, Don and Mary Woodruff; brother, Russell Woodruff; sister-in-law, Beverly Woodruff.
Donell leaves behind her daughters: Alicia Harris, and Annelle Holden, husband Kurt; Grandchildren: Lindsay Harris, Adrien Parker, wife Julie, Jessica Parker, Clay Holden, wife Christen, Kyle Holden, wife Halle, Kate Holden, fiancée Cesar Zapata, and Abigail Holden; Great grandchildren: Marshall Gonzales, Maverick Gonzales, Pierce Parker, Laney Parker, and Claire Holden; Brother, Wendell Woodruff; and Daughter in law, Lisa Pietsch.
In lieu of flowers, please make memorial donations to St. Jude's.
"Those we love don't go away, they walk beside us everyday, unseen, unheard, but always near, still loved, and still missed very dear." -Unknown