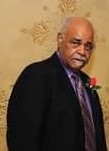 Donaldson "Don" Harper, 80, a 32 year resident of Pearland, TX passed away January 7, 2023.  Don was born June 10, 1942 in Beaumont, TX. He served his country in the U.S. Army, stationed in Germany. He attended St. Luke the Evangelist Catholic Church in Houston and was employed with Amoco as a geophysicist for 25 years.
Don was very respected in his work at Amoco and helped recruit many young professionals to the company.  Other than priding himself in his work he enjoyed playing golf, going to church but most of all coaching his son in little league and then later in life going to his grandkids sporting events.
Don reunites with this wife of 54 years, Kathy Harper; parents, Virgie and Spencer Harper, Sr.; sister, May Frances Duriso; brothers: Spencer Harper, Jr., and David Harper.
He leaves behind to cherish his memory, son, Donaldson Harper, Jr., wife Ashley; grandchildren: Donaldson Harper III, and Donovan James Harper; sister, Estella Caroline Woodard; brother, Samuel Alja Harper, and several nieces and nephews.
There will be a visitation on Tuesday, January 17, 2023 from 5 to 8 p.m. at Crowder Funeral Home in Pearland. Mass will begin at 10:30 on Wednesday, January 18, 2023 at St. Luke the Evangelist Catholic Church. Burial to follow at Houston National Cemetery.
In lieu of flowers the family asks to please consider donating to MD Anderson Cancer Center. https://tinyurl.com/5fbf8hzu