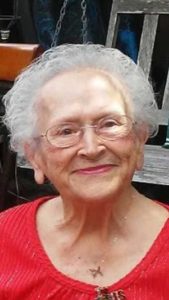 Dolores Schultz "Mema", July 1, 1929 – February 9, 2020. Born Dolores Bess Parsons in Austin, Texas to Melvin and Rosaline Parsons. She was schooled in Austin thru her college years at the University of Texas. Dolores met her husband, Dean Schultz, in Austin where they married on April 2, 1949. Soon they moved to Dickinson, Texas where he was a civil engineer for Galveston County and Texas Highway Dept. There they gave life to three children, Renee, Debra and Roger. She worked for a period of time but was mainly a wonderful wife and mother.
She was preceded in passing by her mother & and father, her husband, and her daughter Renee Caldwell.
She is survived by her son Roger Schultz, her daughter, Debra Schultz, nine grandchildren, many great-grandchildren and even a few great-great grandchildren.
She always thought of others first and always had a smile on her face and never complained. Above all else she loved God and now sits at his feet.
In her honor a visitation will be held at Crowder Funeral Home in Dickinson, Texas on Friday, February 14, 2020 from 5-7:00pm with a memorial service beginning at 7:00pm.
Interment will follow Saturday, February 15, 2020 at Austin Memorial Park Cemetery at 2:00pm.