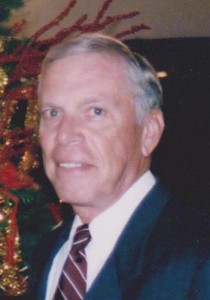 Dennis Rohlfing, 76, passed away February 29, 2016. He was born in Chester, Illinois to Albert and Esther (Meyer) Rohlfing on November 3, 1939.  He is survived by his wife of 57 years, Alberta (Hapke), two sons Steven C. Rohlfing (Yvonne) of Arlington, TX, and Richard D. Rohlfing (Rebecca) of Stillwater, OK., seven grandchildren, two great-grandchildren, and his brother Terry Rohlfing (Christy) of Asheville, NC.
Upon graduation from Southern Illinois University, Carbondale with a major in Math and Economics in 1961, Dennis went to work for Phillips Petroleum Company in St. Louis, MO. As his position with Phillips evolved he and his family lived In Jacksonville, IL; Peoria, IL; Bartlesville, OK three times; Sunnyvale, CA and Houston, TX twice.  After thirty-three years he retired as Phillips World-Wide Polyethylene Marketing Manager and Vice President Phillips Petroleum International Corp.  After retirement he served as Vice President of a petrochemical consulting firm for three years.
Dennis was a faithful member of Webster Presbyterian Church where he served as an Elder and a Trustee. He also volunteered for Executive Services, SCORE, and AARP Tax Aide where he served for 15 years.
Dennis loved to travel both in business and for pleasure. A favorite past-time was researching his genealogy and playing golf.
He was preceded in death by his parents and his daughter, Lauren Rohlfing Balletto.
A memorial service will be held at Webster Presbyterian Church on Saturday, March 12 at 11:00 am.   In lieu of flowers, those who wish may make a contribution in Dennis's name to M.D. Anderson for Research or Webster Presbyterian Church Youth Ministry.