Crystal Zambardino Perkins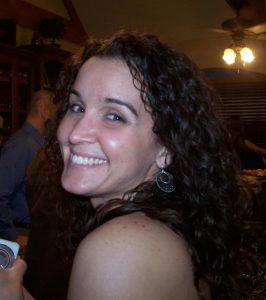 Crystal Zambardino Perkins, 39, passed away peacefully on March 16, 2017 at her home in Seabrook Texas. She was surrounded by family and close friends.
Crystal was a native of Beaumont, Texas but grew up in Vidor, Texas and was a member of Our Lady of Lourdes Catholic Church.
She was known for her beautiful smile and her infectious laugh. Crystal was very active in softball and cheerleading in school. She enjoyed reading and writing poetry in her younger days. Her Papa carried a poem she wrote about him in his wallet until the day he passed away.
In her adult life Crystal worked at the Post Office in Crystal Beach and also worked for the Clear Creek Independent School District with special needs children including Autistic children. She made many wonderful friends along the way.
She loved walking on the beach and browsing thrift stores for hours in search of unique treasures. Her greatest joys in the world were her son and daughter. They would laugh together and it was such a special bond they had. Crystal's step daughter shared that bond with them.
Crystal loved a challenge and was a tower of strength when faced with the diagnosis of Cancer. She never lost her faith in God. Her husband and sister had a way of getting her to push on when she thought she couldn't.
Crystal is survived by her husband Lann (Bub) Perkins, her son Vance Perkins, her daughter Laney Perkins, all of Seabrook Texas and her step daughter Paisley Perkins of Lumberton Texas. She is also survived by her mother Debbie Zambardino and step father David Longbottom of Glen Rose Texas, her sister and brother in law Heather and Harold Thibodeaux of Beaumont Texas, her mother in law and father in law Lana and Robert Perkins of Seabrook Texas, a host of Aunts, Uncles, cousins, and amazing friends and role models. Crystal is also survived by her father Damian Zambardino of Vidor.
There will be cremation followed by a private service.
The family would like to send heartfelt thanks to Harbor Hospice of Clear Lake for their never ending passion and care.