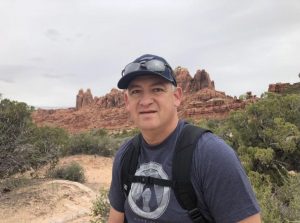 Conrad Pete Cuyos, Jr., 53, of Pearland, Texas passed away September 10, 2021, in Houston, TX.  Conrad was born September 11, 1967 in Texas City, Texas and was of the Christian faith.  Conrad proudly served in the U.S. Air Force and was awarded numerous medals for his service during Operation Desert Storm.   He loved travelling with his wife, spending time with his kids, playing golf, riding his Harley, muscles cars and spending time with family and friends.
He is preceded in death by his parents, Conrad Cuyos Sr. and Joyce Cuyos.  Conrad leaves behind his wife of 30 years, Tammie Cuyos; daughter, Kristen Cuyos; son, Bradley Cuyos, spouse Logan; sisters: Michelle Hicks, husband Roland, and Karen Shortt, husband Billy.
Conrad will forever be in our hearts.  A visitation will be on Tuesday, September 21, 2021 from 5:00pm – 8:00pm at Crowder Funeral Home in Pearland. Funeral service will be at 10:00 a.m. on Wednesday, September 22, 2021 at the Crowder Funeral Home in Pearland.  A private burial will follow at Veterans Memorial in Houston.
In lieu of flowers, family request you make donations to Wounded Warrior Project, support.woundedwarriorproject.org, Wounded Warrior Project, P.O. Box 758516, Topeka, Kansas 66675-8516, 1-855-448-3997.