Col. David Todd "Buck" Buckwalter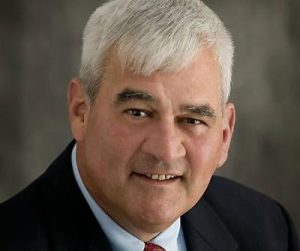 Colonel David Todd "Buck" Buckwalter, Ret. USAF was born on December 5th, 1949 in Pottstown, Pennsylvania to Thomas Edward and Betty (Richards) Buckwalter.  He grew up in Pottstown, graduating from Owen J. Roberts High School, active in football, basketball, and wrestling.  It was at the pool at Countryside where he met the love of his life, Mary Kathryn Sweda.  After high school graduation in 1967, he attended Rensselaer Polytechnic Institute (RPI) in Troy, New York and graduated with a B.S in Psychology.  Todd and Mary were married on February 7, 1970 and celebrated over 52 years of marriage.
Todd, known as "Buck," entered into his military career, joining the United States Air Force in 1972.  He served for 27 years in various positions including weapons system officer and flight commander in the RF-4C; maintenance squadron and logistics group commander, and senior Air Force Advisor to the Naval War College President.  Other military duties included various squadron/wing-level positions and as the Executive Officer to the Director of Operations, Headquarters USAFE.   Buck's military decorations include the Legion of Merit, Defense Meritorious Service Medal, Meritorious Service Medal, and Air Medal.  After his retirement in 1999, he served as a professor of National Security Affairs at the Naval War College for 8 years, teaching strategic leadership, management, and decision making and earning various advanced degrees from Troy State University, the Naval War College, and Salve Regina University.
On a personal level, Buck was an active volunteer at the Air Force Association, serving as a Chapter, State, and Region President, in addition to being a Trustee for the Aerospace Education Foundation.  Buck served on the Strategic Planning Committee and Constitution Committees and served as Parliamentarian for over 8 years.  He received many national AFA individual awards, including the Medal of Merit, the Exceptional Service Award, the Presidential Citation and the Distinguished Sustained Aerospace Achievement Award. However, he was even more proud of the STEM initiatives he worked to establish: CyberPatriot and StellarXplorers. His volunteering efforts with building programs to encourage and inspire youth to pursue STEM-related fields and civic service gave him joy and purpose.
If you were lucky to have met Buck, you would know that he could connect with practically anyone, with his jovial personality and unbounding energy for everything life held.  He had a larger-than-life quality that captured so many hearts with whomever he had encountered.  Of all his accomplishments and exciting endeavors, he would quickly say that he was most proud of was his family.  Buck gave all the credit to raising the children to Mary, as he was often working many times before breakfast well into the evening after bedtime.  But Buck shined in his family as "Poppop," giving time, love, and warm memories to each of his six grandchildren.  He was able to commission his first grandson, Drew, into the USAF after graduation from the University of Texas.  He was able to hold his first granddaughter, Kristy, only a few hours after she was born, reminding her that she was the youngest person that he had ever held. He spent a week planting 2 trees, 3 blueberry bushes and various flowers with his grandson, Matthew while babysitting for a week, where Buck earned the more impressive accolade of, "he cleans his fingernails with a knife!"  Buck would tell everyone that Kira was his biggest fan of whatever he cooked and would impress her with being called, by name, to the front of the crowded line at Rose's Seafood Market.   He would enjoy fishing with Eli, even when the "catch" of the day was bringing home a live turtle. Buck also spent hours going to Farmers Markets with the youngest, Fest – who brought Poppop more joy and laughter through common day experiences shared during the summers in Ohio.
He was preceded in death by his parents, Tom and Betty Buckwalter, and his two sisters, Alisande Buckwalter and Nancy Buckwalter-Hughes.  Buck is survived by his wife, Mary; son Damon (Tara) Buckwalter; daughter Katie (Tom) Spicer; six grandchildren: Lt. Andrew Spicer, Kristy (Hayden) Lane, Matthew Spicer, Kira Buckwalter, Eli Buckwalter, Fest Buckwalter; siblings: Cliff (Nita) Buckwalter, Susan Buckwalter-Hughes; nieces: Kati Buckwalter-Hughes, Leah (Isaac) Mogajane; and nephew Ben (Deborah) Buckwalter.
Funeral Services will be held at St. Paul the Apostle Catholic Church in Nassau Bay on Pointe Lookout Drive in Nassau Bay, TX on Saturday, March 5 at 1pm CT.  In lieu of flowers, the AFA has set up a memorial fellowship to support aerospace education programs; donations can be made to the fellowship through the following link: https://www.afa.org/?form=FUNPLBTGBCM.  Alternatively, donations can be provided to St. Paul the Apostle Catholic Church Building Fund.  An internment at Arlington National Cemetery will follow as schedule permits.