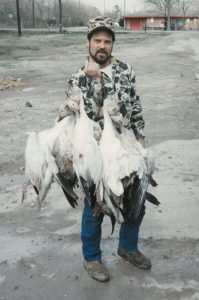 Clay Moreland Fowler, 58, an eighteen-year resident of Friendswood, TX passed away on May 19, 2020 at his home.   Clay was born on April 10, 1962 in Little Rock, AR to Horace and Peggy Fowler.  He was proud to be an electrician and an all-around handyman.  Mr. Fowler was a member of Triple B Cookers, a supporter of the C.C.A and Ducks Unlimited along with being a Past Chairman of the Clear Lake Chapter, Houston Livestock Show and Rodeo-Transportation Committee.
Mr. Fowler is preceded in death by his parents Horace and Peggy Fowler.  Clay is survived by his two daughters Cassie Fowler and Fiancée Zack Reese and Charrise Fowler and Fiancée Scott Berardi; sister Pamela Fry and husband Steve; brother George Michael Fowler and Caitlyn; nephew Shane Yeagin.
There will be a Memorial Service, 1:00 p.m. on Monday May 25, 2020 at Crowder Funeral Home 2422 E Broadway St Pearland, TX 77581, with Rev. Stephen Oglesbee officiating.
Memorials may be made to Yay 4 Life.
For those who can not attend and wish to join in the service for Mr. Clay Fowler, here is the link for his live stream