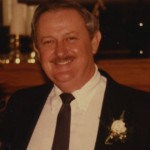 CHARLEY CHESSLEY BATEY
Cherished husband, father, grandfather, great-grandfather and friend to many, Charley Chessley Batey, 78 died peacefully at his home in Dickinson, Texas on August 29, 2014. He was surrounded by his beloved family. Charley was born in Seguin, Texas, on October 11, 1935 the son of Chessley Elmo Whit "Check" Batey and Florence Phillips Batey. Charley's early years were spent in Seguin. Charley's earliest education was at a one-room school in McQueeney, where his father ranched and farmed for a few years. He started school there at four and had warm memories of the school, teachers, and the old farm house where they lived. He attended Mary B. Erskine and Seguin High School where he was quite the gentleman. He enjoyed sports, especially football where he was labeled BIG C. After graduating in 1953 Charley attended Texas A&M, where he was a member of the Corps. He remained a steadfast Aggie the rest of his life.
All those around Charley knew his first great accomplishment was when he met his wife, Gail Patton. They were married in the First Methodist Church in Seguin December 21, 1954. The next one was the birth of their three children Marsae, Rusty, and Pat.
Charley was never afraid of hard work. When he was eleven-years-old he worked at Walgreen's Drug Store at the soda fountain. Charley said that when he made a milkshake and poured it from the stainless steel container into the glass, there was always some left in the container, which he promptly drank. Mr. Tom Rogers, who owned the drugstore, couldn't fire him, because he was renting his house from Charley's grandmother. In high school, along with many other football players, he worked at the Steel Mill in McQueeney, in an interesting but dangerous job. He also worked at A&P and as an Electrolux vacuum cleaner salesman. After college and marriage, Charley began a lasting career with Sears-Roebuck. He quickly became a top salesman in Seguin and San Marcos. Over his career he managed 17 different Catalog stores in various cities. Late in his career he moved to the Home Improvement side of Sears and moved to Memphis Tennessee where he managed 10 states. In 1997 Charley retired after over thirty-five years with Sears and he and Gail returned to their home in Dickinson and their children and grandchildren .
Charley and his wife Gail are members of a True Cross Catholic Church in Dickinson. He was raised in a family with deep Christian values. He was raised Baptist, Gail was a Methodist, and the two of them have been Baptists, Methodists, and now Catholics." Charley was a deeply spiritual person with a rich prayer life. He prayed for everyone. The overriding theme of Charley's life was Love of Family. That included his grandparents, parents, wife, children, grandchildren, and now great-grandchildren, as well as extended family. Charley adored his children, and the birth of his grandchildren were a revelation to him. "Gail and I had no idea how important grandchildren would be and we were equally excited when Amanda, Emmitt, Trey, Madison and Mallory came along." The light of Charley's life recently has been his two great-grandchildren, Brayden Thomas Flannery, born in 2009, and Brackstin Chessley Flannery, born in 2011, the children of grand-daughter Amanda and her husband Brendan. He was eagerly awaiting the birth of another little boy, to be named Mason Batey, son of Emmitt and Lauren Batey . His love also extended to the many pets that he had as part of his family. Two dogs—Capote and Tootsie—will miss him.
Charley's love and compassion for his family also extended to his many friends. He was a loyal and conscientious friend. Many friends and family members have commented on his steadfastness and that "he was always there when I needed him." Charley will be remembered for his personality as well as his character. He made you smile and lit up any room he was in. He liked people, all kinds of people, and they liked him back.
Charley is predeceased by his grandparents Charley Chessley Batey (Bobo) and Katherine Fairy Batey (Momo), and Henry Phillips and Loyce Lee Potts Phillips. Also, his parents, Charley Chessley Elmo Whit Batey and especially his mother Florence (Torence) Phillips Batey, who was a wonderful grandmother to his children. He is survived by his wife of 59 years, Gail Patton Batey and their children Marsae Lynn Batey Bussey (Michael Bussey); Charley Chessley "Rusty" Batey Jr. (Stephanie), and children Charley Chessley Batey III [Trey], Madison Jean Batey, and Mallory Patton Batey; and Henry Patton "Pat" Batey (Stacy), and children Amanda Nicole Batey Flannery (Brendan Flannery) and Henry Patton Batey III, known as Emmitt (Lauren), great-grandchildren Bray and Brack Flannery and various nieces and nephews. Also his sister Katherine Batey Baker and her husband, Dudley Baker III, of Austin and children Dudley IV, Andy, and Mark; Also his adoring sister-in-law Ann Rose and her children Bart, Julie and Jeff.
"I am so grateful to God for allowing me to live to this age, and to enjoy a long wedded life with Gail, and to know and love my children, grandchildren, and great-grandchildren. God is truly great." Charley C. Batey
Big C we are going to miss you.
Memorial Service and celebration of Charley's life will be held Friday, September 5, 2014 at Crowder Funeral Home in Dickinson, Texas. Visitation will be from 4:30 p.m. to 5:30 p.m. Celebration of Life will be at 5:30pm.
In Lieu of flowers donations may be made to Hospice Care Team, Inc. http://www.hospicecareteam.org/