Charles A. "Chuck" Jacobson Sr.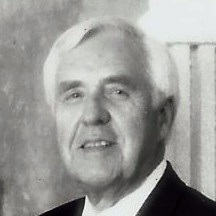 Charles A. "Chuck" Jacobson Sr. of League City, TX passed away on October 18, 2015 at the age of 90.
He is survived by his five children, Janelle Taylor and husband Mike; Charles A. "Chuck" Jacobson Jr. and wife Amelia; Robert "Bob" Jacobson and wife Dawn; Julian "Kent" Jacobson and wife Pauline; and Joan Del Papa and husband Larry; nine grandchildren, Jennifer Palo and husband Danny; Laura Muldoon and husband Ryan; David Taylor, Charles Jacobson III, Tyson Jacobson and wife Tina Maldonado, Lauren San Martín and husband Dr. Daniel San Martín; Marjorie "Paige" Glier and husband Clifford "Kip"; Sean Skellenger and fiancé Diana Siminski; Carmel Gabriel and husband Marcus; ten great grandchildren, Mathew Muldoon, Cameron Muldoon, Collin Muldoon, Gavin Muldoon, AJ Shlafer, Luke Taylor, Madison Taylor, Mia Glier, Kaleb Hayes, and Aidan Hayes.
Chuck was born in Cresco, Iowa on June 2, 1925.  He was a U.S. Navy Pilot, serving active duty from 1943-1946, and retiring as Lieutenant Commander in 1967 after many years in the Navy Reserves.
Chuck married Marjorie, "Marge", Minear on June 18, 1947.
In 1952 he graduated from Iowa State University with a BS in Aeronautical Engineering, and in 1957 he completed his graduate studies at St. Louis University.
Chuck began his career with McDonnell Corporation in 1952 working on the F101 and F4 aircraft. In 1966 Chuck became director of Houston Operations for what eventually evolved into McDonnell Douglas Technical Services where he became Vice President, General Manager overseeing operations in Houston, Alabama, Maryland and Florida.  He retired in 1990, but not for long as later that year he became President of GB Tech Inc., then executive Vice President from 2000 to 2003.
Chuck was a member of American Institute of Aeronautics and Astronautics, associate fellow; National Contract Management Association; Electronic Industries Association; Director of MBank-Clear Lake; Armed Forces Communications & Electronics Assn.; Navy League; JSC Team Excellence Forum Member; American Astronautical Society; Southwestern Aerospace Professional Representatives Assn.; and JSC Chapter of the National Management Assn.
Chuck has received several honors and awards including the NASA Group Achievement Award; Apollo 11 Mission Operations Team Award; AIAA Houston Section Community Service Award; NASA Public Service Medal; YMCA Chuck Jacobson named scholarship. He was named one of the Ten Most Powerful People in the Clear Lake Area. He was also recognized by Boy Scouts of America Bayshore District Award of Merit; Clear Lake Council of Technical Societies; Technical Administrator of the Year; Iowa State University College of Engineering Professional Achievement Citation Award; Lunar Rendezvous Festival King; Honoree-Friends of Bay Area Turning Point; Bay area Transportation Partnership-Charles A Jacobson Transportation Enhancement Award; North Galveston County YMCA Community Caring Award; and is listed in Who's Who: in Aerospace; Space;  U.S. Executive; Southwest; and in America.  He was past President of Space Center Rotary and was awarded a Paul Harris Fellow.
Chuck was widely known for his service to the community serving in the capacity of Director, Chair, Board Member or Advisory Committee Member for numerous organizations including: American Heart Association; Boy Scouts of America; Clear Lake Area Chamber of Commerce; Clear Lake Area Economic Development Foundation; Clear Lake Council of Technical Societies; Bay Area Transportation Partnership; Clear Lake Symphony; Lunar Rendezvous Festival; March of Dimes; Rotary National Award for Space Achievement Foundation; Science & Engineering Fair of Houston; South Shore Harbour Country Club, Space Center Rotary Club, Shrimporee, Space Center Rotary Club Endowment Foundation; United Way of the Texas Gulf Coast; University of Houston development and Advisory Council Member; University of Texas ASE&EM Industrial Visiting Committee; and a number of leadership roles with the YMCA in both St. Louis and Houston.
Chuck is preceded in death by his wife, Marge, of 60 years, his parents Julius and Beulah Jacobson, and his brother Roger Jacobson.
Chuck was a humble, loyal, patient, and kind gentleman of strong integrity. He had a passion for his work, community service, travel, and treasured family trips and gatherings. He will be greatly missed.
The family would like to thank the entire staff of Serenity Gardens Memory Care and Hallmark Hospice for the compassionate care they provided. And a special thanks to his long time executive assistant, and devoted friend Ms. Martha Oetker.
Pallbearers will be his grandchildren; Jenny Palo, Laura Muldoon, David Taylor, Tyson Jacobson, Lauren San Martín, Paige Glier, Sean Skellenger, and Carmel Gabriel.
  Funeral services will include Visitation Monday, October 26, at Crowder Funeral home in Webster Texas from 5-7 pm.  Funeral services will be held at St. Mary's Catholic Church in League City, Tuesday, October 27 at 11am.  Burial with Military Honors to follow at Mount Olivet Cemetery in Dickinson, Texas, and the Celebration of Life reception will be at St. Mary's Catholic Church in League City immediately afterwards.
In lieu of flowers, please make donations to Perry Family YMCA in League City, Texas.