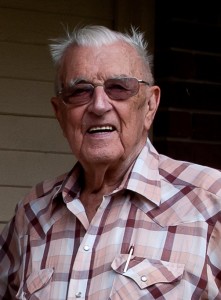 Cash Feindel of Friendswood, Texas (formerly of Boynton Beach, FL, Rocky Fork, OH, and Dayton, OH) passed away peacefully on July 4, 2015. He was one month short of his 91 st birthday. He is survived by Kathleen Longmire Feindel, his beloved wife of 65 years; three sons, Richard (and wife Ruth of Frankfort, KY), David (and wife Lynn of Pleasanton, CA), and Wayne (and wife Laurie of Houston, TX), and four grandchildren, Caroline, Christina, Benjamin, and Jessica. He is also survived by one sister, Catherine Benkert, of Vandalia, OH, and predeceased by two other sisters, Dorothy Sanders and Margaret Feindel.
Cash was born in 1924 to Cash Winfield Feindel and his wife Maggie Feindel, in New Germany, Nova Scotia. The family moved to Dayton, OH in 1939. Cash enlisted in the US Army upon finishing high school, joining the 76
th
Infantry Division of the 3
rd
Army in their campaign in Luxembourg and Germany. He was honorably discharged in 1946, and returned to Dayton. He became a civilian working for the US Air Force at Wright-Patterson Air Force Base as a professional photographer, a position he held until he retired in 1979, after 32 years of service. During his career, he traveled extensively for the USAF, including most of the 50 states, Germany, Panama, Bermuda, New Zealand, and Antarctica. The latter two countries were while he was involved in the preparations for the International Geophysical Year, helping research aircraft performance in sub-zero conditions. He also had the honor of serving his country a second time, being called to Fort George G. Meade during the Cuban Missile Crisis of 1962, as a member of the US Army Reserve.
Cash enjoyed traveling, and took the family on many noted trips, including numerous lengthy trips to Nova Scotia to meet and enjoy family, as well as to the New York World's Fair, and cruises in Hawaii and the Eastern Caribbean. Another legacy he left was an extensively-researched family tree, tracing the Feindel lineage back to George Feindel arriving in Halifax in 1752.
Upon retirement, he and Kaye moved to their "summer" home in Rocky Fork, OH, where he spent many an enjoyable weekend entertaining family and friends.   They relocated to Boynton Beach, FL in 1980, living 26 years enjoying the warm sunshine, nearby ocean beaches, and leisurely traveling, including trips to Germany, Italy, Austria, the Netherlands, the U.K., Russia, and New Zealand. They relocated yet again to Friendswood, TX in 2006, to be closer to family and enjoy grandchildren.
A memorial service will be held at the Houston National Cemetery on Monday, July 27, 2015 at 10:30am.
Cash was a good father, a devoted husband, and a patriotic citizen. We will miss him greatly.