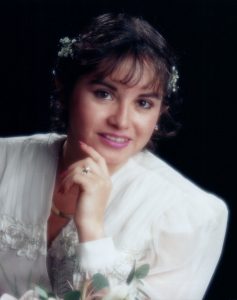 Carmen Leticia Lewallen, passed away on March 29th 2017 in Webster Texas, at the age of 48. Born on July 16th 1968 in Orizaba, Veracruz Mexico to Jose Andrade Flores and Arcadia Ortiz Cruz. She was preceded in death by her father Jose Andrade Flores and her mother Arcadia Ortiz Cruz. Survived by her husband Anthony Robert Lewallen, her brother Jose Andrade, her sisters Veronica and Monica, in laws Beverly and James Lovett, numerous nephews and nieces.
A Memorial Service will be held at 1:00 on April 8th 2017 at Crowder Funeral Home, 1645 East Main Street League City Texas Carmen wishes were to be cremated and to have her ashes mixed with her husband upon his passing.
In lieu of flowers, you may send memorials to American Cancer Society or MD Anderson Cancer Center.