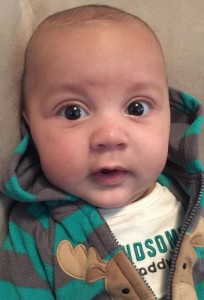 Brooks William Matthews was only 4 months old when he passed away on January 26, 2015 in Houston, TX. He was born on September 4, 2014 in Houston, TX. Brooks was a beautiful baby boy who left us early in life, and even though he may have only been 4 months old, he has touched the lives of many who knew him.
Brooks was the happiest baby that any of us knew. He was just starting to play peek-a-boo and loved eating rice cereal, and he always wanted to sit up and participate in the action. He loved to do Face Time with his long-distance relatives and looked forward to basketball games with his daddy and mommy.
Although he was too young to do it here on Earth, we know that his first words and first steps will be celebrated in Heaven.
He leaves behind to cherish his memory: his parents, Angela Plum and Alton Matthews Jr.; sister, Celeste Sofia Matthews and brother, Isaiah Alexander Campbell; grandparents: Leslie and Larry Monson, Greg Plum, Rev. Alton and Bevylen Matthews Sr.; great grandparents: Duane and Brenda Hanson, Carol Plum- Freese, William Henry Matthews; Aunts and Uncles: Justin (Lauren) Plum, Dre'langala (Maurice) Edwards, Cory Matthews, Jason Matthews, Kristy Matthews and a host of cousins and other relatives.
Visitation will be held on Friday, January 30, 2015 from 5 pm to 8 pm at Crowder Funeral Home. Funeral service will begin on Saturday, January 31, 2015 at 10 am, with Pastor Johnny Brooks Sr. to be officiating, at Crowder Funeral Home, 2422 Broadway, Pearland, TX 77581. Interment to follow at Houston Memorial Gardens.
In lieu of flowers, please make memorials to Angela Plum and Alton Matthews. Online memorial donations can be made using the following website: https://www.youcaring.com/memorial-fundraiser/brooks-william-matthews-memorialdonations/298371#.VMkoVEnC3WY.mailto.