Brigadier General Robert Foster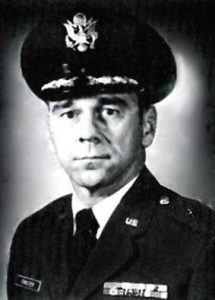 Brigadier General Robert Foster passed away with is family by his side on July 12, 2017. Mr. Foster was born in Charlotte, NC on September 5, 1929, he has been a 20-yr. resident of Pearland, TX and attended St. Helen Catholic Church.
Robert Foster graduated from the U.S. Naval Academy at Annapolis, Maryland, Class of 1953. Brigadier General Robert Ashmore Foster, United States Air Force, was awarded the Air Force Distinguished Service Medal for exceptionally meritorious and distinguished service in a position of great responsibility to the Government of the United States, culminating as Deputy for Surveillance and Navigational Systems, Electronic Systems Division, Air Force Systems Command, Hanscom Air Force Base, Massachusetts, from 1977 to 1978. The singularly distinctive accomplishments of General Foster culminate a long and distinguished career in the service of his country and his dedicated contributions reflect the highest credit upon himself and the United States Air Force. He retired in 1978 as a U.S. Air Force Brigadier General.
Brigadier General Robert Foster leaves behind to cherish his memories, wife of 42 years, Eva J. Foster; daughter, Teresa Leonard, husband John; sons: Robert K. Foster, wife Pamela, Lawrence D. Foster and Michael D. Foster; granddaughter, Laura Butterfras, husband James and great granddaughter, Brooke Nicole.
A graveside service will be held on Wednesday, July 19, 2017 at 10:45 am at Houston National Cemetery in Houston, TX.