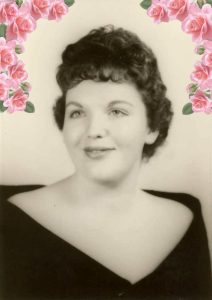 BRENDA (WALLACE) TRAWEEK
September 23, 1941 to November 14, 2022
Brenda was born at Crawford W. Long Memorial Hospital in Atlanta, Georgia at 1:00PM on Tuesday, September 23, 1941, one month premature but completely healthy.  She was the fourth girl born to her parents, Don and Edith Wallace, and was simply named Brenda Wallace.  They said they had run out of middle names even though it was common in the South to call children by two names like her sisters Verna Louise, Mary Ann, and Dona Lee.  Her parents always referred to her as Brenda Baby and that is what she grew up being called by the whole family.
Brenda was primarily raised in Chamblee, Georgia but the family moved as required for work and she also lived in Butler (GA), St. Simons Island (GA), Brunswick (GA), and Coconut Grove (FL).  Her father's untimely death when she was only twelve had a significant impact on her but she was later blessed with Calvin Taunton as a step-father when her mother remarried.  Brenda was a Girl Scout and a member of Honor Society and Beta Club.  She was very intelligent but not a great speller and once wrote to her older sister that she had failed her "spilling" test.  She had a scholarship to Reinhardt College (University) in Waleska, Georgia but left before graduating to join the United States Navy.
Brenda entered military service on December 7, 1961 and was trained as a nurse at the Naval Hospital Corps School in Lake County, Illinois. She was stationed at the U.S. Naval Hospital at Camp Lejeune, North Carolina where she served as a nurse and then X-Ray technician until she was given an honorable discharge with the rank of Hospital Corpsman (3rd Class) on June 4, 1965.  Brenda then worked for many years as an X-Ray technician at the V.A. Hospital in Houston, Texas.
She married Roger Q. Traweek III on March 6, 1971 at St. Anne Catholic Church in Houston, Texas.  Brenda received the holy sacrament of confirmation into the Catholic Church on May 23, 1976 at St. Jude Shrine in Stafford, Texas.  Brenda and Roger spent many years together in happiness and while they never had children of their own, they helped raise several godchildren.  They lived in Pasadena, Texas before moving to Dickinson, Texas to be close to Queen of Angels Catholic Church where they worshipped and sang in the choir.  After Roger's death in January 28, 2011, Brenda eventually moved to Alvin, Texas.
Brenda was an animal lover with many pets over her lifetime.  She was very artistic and painted ceramics professionally along with her mother.  She was also a talented cook, candy maker, and seamstress.  She and her husband had their own upholstery business and were also antique dealers.
Brenda loved going on cruises and was always looking forward to her next adventure on the high seas.  She was a longtime member of the TOPS Club (for weight loss) and regularly attended local chapter meetings as well as state and national events.  She met a longtime weight goal during her final hospital stay and hoped to be certified for the achievement.
Brenda was preceded in death by her spouse Roger Quarrelles Traweek III; grandparents William David Wallace, Sibbie Louise (McDaniel) Wallace, Dalton McMichael, Verna (McMichael) Phillips, & Wiley Phillips; parents Don Wallace & Edith (Wallace) Taunton; stepfather Calvin Taunton; parents-in-law Roger Jr. & Donna Traweek; sisters Verna Louise Wallace & Mary Ann (Wallace) Evans; brothers-in-law Joe Johnson Adams, Isaac Leon Evans & Freddy Traweek; uncle William Gordon Wallace; aunt Sibbie Louise (Wallace) West; and first cousins Theresa (Wallace) Walker & Iris Wallace.
She is survived by her siblings Dona Lee Adams & William David Wallace II; sister-in-laws Jackie (Beck) Wallace & Barbara (Traweek) Cox; nephews and nieces Connie Evans, Terry (& Shirley) Evans, Joe Brian Adams, Matthew (& Carolyn) Adams, Brenda Lynne Adams, Don (& Alisa) Wallace, & Erich Elfeldt; close friends Peter Campbell, Mickey Rios, James Bailey, Diana Fee, & Danelle Wilson; godchildren Christopher, Noel, Christian, Lawrence, & Erin Campbell; and first cousins Sheree Louise West & Truel W. West.  Brenda touched many lives and her family apologizes if any names have been omitted.
Services will be held at Queen of Angels Catholic Church in Dickinson on Monday, November 21st at 1:00PM. It will begin with a Rosary immediately followed by the Funeral Mass.  The burial will be a private service held on another day.  In lieu of flowers, the family has requested that a gift be made in Brenda's name to Queen of Angels Catholic Church or the charity of the donor's choice.
Honorary pallbearers include Joe Brian Adams, Erich Elfeldt, Peter Campbell, Mickey Rios, James Bailey, David Wallace, Don Wallace, and Terry Evans.