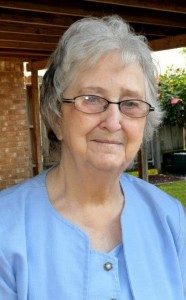 Betty Lee Zetka, 79, of Texas City, Texas passed away on Thursday, July 14, 2016. She was born in El Paso, Texas to Ruth Hester Byrd Canfield and Neil M. Canfield on April 19, 1937. Betty worked as a LVN at both Mainland Center Hospital and Clear Lake Regional and retired after 28+ years of service. She was also a Charter Member of the Trinity Baptist Church in Texas City, Texas.
She is preceded in death by her mother and father, and step father; Victor Paul Adams, brothers; Kenith Wesley Canfield, James William Canfield, Robert Paul Canfield, and Neil Warren Canfield, and great-grandson; Gunnar Lee. Betty is survived by her loving husband of 47 years; James Robert Zetka, five daughters; Linda Vuorela and her husband Asko, Sharon Oldham, Dianna Lee and her husband Jeff, Janet Franklin and Becky Mason and her husband David, two sons; James Zetka and Bill Zetka and his wife Karen, sister; Margaret Falgout, sisters in-law; Shirley A. Miller and Shirley Zetka, 12 grandchildren; Ruth Ann Sorrel, Nicholas Lee, Jonathan Lee, Melissa Oldham, Robert Oldham, Travis Zetka, Kelly Zetka, Kyle Eberlan, Lauren Eberlan, Kaitlan Mason, Logan Mason, and Rhee Mason, and four great-grandchildren; Shae Helton, Brandon Lee, Shelby Lee and Mason Apostalo.
Visitation will be held on Monday, July 18, 2016 from 6:00pm to 8:00pm at the James Crowder Funeral Home in La Marque. A funeral service, officiated by Pastor Hector Rodriguez, will be held Tuesday, July 19, 2016 at 10:00am at the Trinity Baptist Church in Texas City (2220 29th Street N., Texas City 77590), with interment to follow at Forest Park East in Webster, Texas.
Pallbearers will be Jeff Lee, Nicholas Lee, Jonathan Lee, Kyle Eberlan, David Mason and Jimmy Derden.