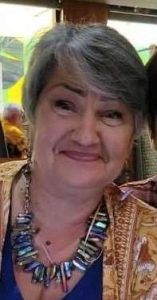 Bette Hatman-Best, 60 of Onalaska, Texas passed away surrounded by her family on Saturday, January 15, 2022, in Webster, Texas.
Bette was born May 24, 1961, in Texas City, Texas, the daughter of William Bryan Hatman and Bette Mae Cuyos-Hatman. Bette was raised in Texas City, attended Texas City Schools. She was a former auditor for Washington Mutual Company, Entex, and First Bank of La Marque. She is preceded in death by her parents.
Bette is survived by her husband, Bob Best of Onalaska, Texas; three daughters and sons-in-law, Mikki Lynn Strother (Luis Heredia) of Dallas, Texas, Tonja Monique Watson (Mike) of Conroe, Texas, Jessica Nicole Martinez ( Randy) of Hallsville; two sons and daughters-in-law, Michael Isaac Best (Erika-Michelle) of Dickinson, Texas, and Stephen Michael Casalini (Christina) of Cypress, Texas, also three sisters and brothers-in-law, Connie Ann Place (Dana) of Onalaska, Texas, Tracey Lynn Guzman (Juan) of League City, Texas, Natalie Hatman of Texas City, Texas, one brother, William Hatman II of Texas City, Texas. Bette has ten grandchildren, Maegan Strother, Amellia Lafferty, Luis Heredia II, Jayce Martinez, Jared Martinez, Nalah Best, Jalyssa Martinez, Micah Best, Vincent Casalini, Lukah Best, and one great-granddaughter Leia Lafferty.
Bette will have a visitation on Thursday, January 20, 2022, from 5:00 pm to 8:00 pm at the James Crowder Funeral Home in La Marque. Funeral Services will be 2:00 p.m. Friday, January 21, 2022, in the Chapel of the James Crowder Funeral Home, 401 Texas Ave. La Marque, Texas with Pastor Randy Cripps, officiating.  Entombment will follow at Forest Park East Mausoleum at 21620 Gulf Fwy, Webster, Texas.