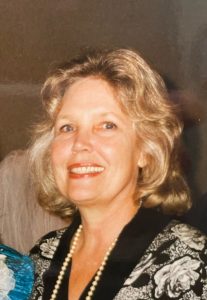 Barbara Ann Sauer, 86, a resident of Dickinson, Texas, went to her heavenly home on Friday, October 6, 2023. She passed away unexpectedly from cardiorespiratory arrest.  She was born in Brenham, Texas on January 15, 1937, to parents Walter Schwartz and Alma Blase Schwartz.
Barbara graduated high school in Brenham, TX in 1954 and headed to Texas State College for Women (TSCW).  In January of 1955, Barbara went to Texas A&M University for the Walther Lutheran student conference where she met the love of her life, Bill Sauer. She loved to tell the story of when the other ladies were trying to get his attention and Barbara said, "I want that one!"  To this day, Bill has always been "the one".
Barbara and Bill married the same year on December 26, 1955. In 1956 their world travels began. Bill was called to active duty in the Air Force, and they relocated to Japan where Kyle was born in 1957.  When Bill's tour was completed in 1958, they moved to Dickinson, Texas where Slater was born six years later.  In 1965, Bill was transferred to Egypt for his job, so they moved to Maadi, Egypt for two years and then prematurely moved back to Dickinson because of the Six-Day War. Nine years later, their daughter Angela was born in 1976. Bill and Barbara were married for 67 years.
Barbara was a devoted wife and mother, and she highly valued her faith and family. Bill and Barbara were charter members of Hope Lutheran Church in Friendswood in 1963 and later joined Faith Lutheran Church in Dickinson. Barbara was a member of several committees at Faith Lutheran Church. She volunteered her time as a Girl Scout leader and was a member of the League of Women Voters. Barbara was a longtime bridge enthusiast in which she participated regularly with her Dickinson friends.  In the 1990's she decided that she wanted to complete her college education, so she attended the University of Houston, Clear Lake where she obtained her Bachelor of Arts in Humanities degree. Barbara was known for her fierce love of her family and her fiery spirit. Her vibrant smile would light up the room, and she will be greatly missed.
Left to cherish her memory is her husband, Bill Sauer of Dickinson, TX; son Kyle Sauer and wife, Anita of League City, TX; son Slater Sauer and wife, Carol of Friendswood, TX; daughter, Angela Van Arsdale of Cypress TX; six grandchildren, Beau Sauer, Lauren Dobson and husband, Trey, Ashlyn Sauer, Justin Sauer, Morgan Van Arsdale, and Tommy Van Arsdale; brother-in-law, Buddy Sauer and wife, Bea of Clear Lake, TX; nephew Emmanuel Schwartz of Groves, TX; niece Stephanie Parma of Magnolia, TX; niece Barbara Yoas of Austin, TX; nephew John Starcke of Nashville, TN; and niece Amy Sauer of Whitethorn, CA.
Barbara is preceded in death by her parents, Walter and Alma Schwartz, her brother Stanley Schwartz and wife Josephine, her sister Margie Starcke and her husband Edgar, and her niece Pam Sauer.
In her honor, there will be a visitation on Friday, October 13, 2023, from 5:00 to 7:00pm at Crowder Funeral Home in Dickinson. A memorial service is planned for Saturday, October 14, 2023, at 1:00 pm at Hope Lutheran Church in Friendswood with a short gathering to follow. Her interment will follow at Forest Park East in League City.
Memorial contributions can be made to the Alzheimer's Association.
"So with you: Now is your time of grief, but I will see you again and you will rejoice, and no one will take away your joy." – John 16:22