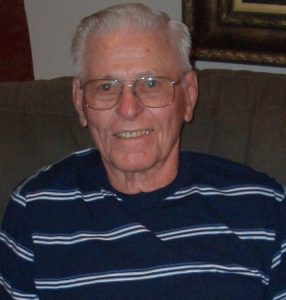 Allen Vyvial, 91 of Santa Fe, Texas passed away November 16, 2017 in La Marque, Texas.
Mr. Vyvial was born June 5, 1926 in Louise, Texas the son of Frank J. Vyvial and Annie Fojt Vyvial. After high school, Allen attended Texas A&M before being drafted into the US Army. He served during World War II stationed in Japan where he attained rank of PFC and received small arms expert marksmanship along with many other medals. He was a member of Abundant Life Christian Center. He retired as a supervisor for Amoco/BP Oil Refinery. After retirement he went to work for O'Day Industries and then with security at Gulf Greyhound Park.
He had a deep love for gardening and loved to fish. His love for sports led him to be an amazing coach to many. He was a giant among men and never had a harsh word to say about anyone.  He loved his wife more than life itself. His son was his pride and joy.  He was PawPaw not only to his grandchildren, but to all of their friends. Above all, he loved Jesus and would tell anyone who would listen about Him.
Allen is preceded in death by his parents, great granddaughter Jaycee Martinez; sisters, Agatha, Hilda, Willie Mae, Alma, Emilee, and Elizabeth; his brothers, Roman, Edward, Adolph, Willie, George, Almont and Bernard.
Allen is survived by his wife of 69 years Loraine Vyvial; his son and daughter-in-law Wayne and Cindy Vyvial; four granddaughters and grandsons-in-law Carrie Vyvial, Kelly and Wesley Owens, Courtney and Shawn Morgan, Kristen and Alan Womack; great grandchildren Jayden, Tristan, Caden, Traven, Talan, Jaylen, Keegan, and Olivia; great- great grandson Raylon; his brother and sister-in-law Elgin and Joyce Vyvial; and numerous nieces and nephews and other relatives and friends.
Memorial Service will be Tuesday, November 21, 2017 at 2pm at Crowder Funeral Home in Dickinson, TX with Pastor Wesley Owens officiating. Please join the family at Hidden Palms in Santa Fe following the service.