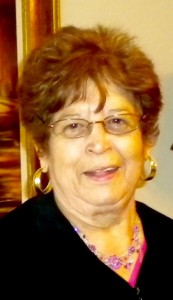 Alice M. Perez, resident of Dickinson, Texas passed from this life Thursday, June 16, 2016 at the age of 79. Alice was born in Waelder, Texas on January 17, 1937 to proud parents, Antonio and Petra Martinez.
Alice is preceded in death by her husband Toribio Perez, her previous husband and father of her children Espiridion "Speedy" Esparza, her son Efrain Esparza, her brothers Daniel Martinez and Manuel Martinez, Sr and sisters Josephine Mendoza and Pauline Romo.
She is survived by her daughter Teresa Martinez and her husband Juan, daughter Delores Fernandez and her husband Alfred, daughter Diana Gamble and her husband Dorian; son Espiridion Esparza Jr., son Alfredo Esparza, son Samuel Esparza, and son Carlos Esparza; twenty grandchildren and many great grandchildren and great-great grandchildren.
The family of Alice M. Perez would like to thank all who were so supportive during Alice's illness; the medical staff, A-Med hospice, friends, family, and her dear special friend Laverne Hoskins.
A visitation will be held in her honor on Sunday, June 19, 2016 from 5 – 8pm with a funeral service on Monday, June 20, 2016 at 10:00am in the Crowder Funeral Home Chapel in Dickinson, Texas with interment following at Mt. Olivet Cemetery, Dickinson, Texas.