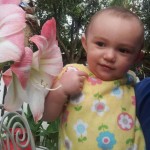 Abigail Faith Landon, born to Timothy and Katherine Landon, on March 20, 2013 and passed away on June 30, 2014.
Abigail leaves behind to cherish her memories, parents; sister, Julia Landon; brothers: Dominic Martinez and Sean Michael Huenecke; grandparents: Kevin and Deborah Barnell; Aunt Keri Barnell and the family dog, Roger Bob.
A vististaion will be held on Saturday, July 5, 2014 from 6:00 to 8:00 pm. Funeral service will begin Sunday, July 6, 2014 at 1:30 pm at Crowder Funeral Home in Pearland. Interment to follow at Confederate Cemetery in Alvin.
"An angel, in the Book of Life, wrote down my baby's birth.
Then whispered as he closed the book,
Too beautiful for Earth."