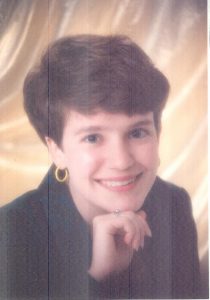 Memorial Service February 11, 2017 from 11am to 3pm at Rice University Brown College PDR (Private Dining Hall).
Molly Anne Dolan was born in Fairbanks, Alaska with the weather outside at minus forty degrees below zero. There were six inches of frost inside on the windows of the hospital.  She spent her first week snuggled in a dresser drawer because her father had accepted a job in the country of Saudi Arabia and the crib they had purchased had to be returned.  At a week, she was on her first plane heading to her grandparents in Lakewood, Colorado.  After that she went to Des Moines, Iowa and met her other grandparents and where she got her first passport.  She, at twenty-one days, then flew with her Mother  to join with her Father and another dresser drawer until a crib could be purchased.
The extreme swing in temperatures wasn't the only big change to come into her life in the coming years. By the time she had reached the age of eight she had lived in Saudi Arabia, Iran, New Mexico, Nebraska, Wyoming, California, South Carolina, North Carolina and Texas in the U.S.  By the time she graduated high school she'd added California (again) and London, U.K  to that list.  She attended thirteen schools with the hardest being second grade where she was in three different schools.  She told her parents that moving wasn't so bad but could they just get her into new school at the beginning of the school year?
During her time (mostly) growing up in Dallas, she attended the district's various Talented and Gifted magnet schools. By the time she graduated with her class of twenty-nine fellow students in 1992, she'd known some of them for ten or more years; a fact that always surprised her after her nomadic childhood.
Love for Texas grew slowly. By the time she was ready for college she was ready to leave Texas for (literally) greener pastures until a weekend visit to Rice University convinced her to attend.  It was a choice she still regards as one of the best of her life.  After four years at Rice, she headed to New York City to work in book publishing, a career she had started to pursue during part-time jobs in college at the Rice University Press.  Her first real job gave her an endless fount of stories about the vicissitudes of the publishing industry as well as the desire to never work in publishing again.  She moved on to coding HTML for Medscape.com where she found a new set of skills and the best co-workers of her entire career.
During a vacation in Scotland, she had decided to move on to another career and applied to library school. Landing at LaGuardia Airport at 8:30 AM on September 11, 2001, briefly caused her to second guess that decision; but, by the following August she had moved to Champaign-Urbana, Illinois and found it to be her home for the next eight years and it became the true home of her heart.
A couple of library degrees and nearly a decade later, she headed for Morgantown, West Virginia, for a position as the Digital Initiatives and Scholarly Communications Librarian with West Virginia University, where she again made friends with a wonderful group of people.
After five years in Morgantown, she left to return to Texas in order to be closer to her family. Although the cancer diagnosis was a terrible and unexpected shock, she appreciated the opportunity it gave her to spend time with her beloved nephew and niece as well as being able to let the friends she loved as dearly as family know how much they meant to her.  She said that she looked on the last two years of her life as an opportunity for something like a farewell tour where she tried to spend as much time as possible with those dear to her heart especially her brother, Brian, sister-in-law, Kristi, her niece and nephew and her parents, James and Susan.
She hopes that she will live on in the hearts of those who loved her, the many wonderful people she meant throughout her life being her greatest treasure. Every moment spent was precious to her and, in the words of Kurt Vonnegut, "if (that) isn't nice, I don't know what is."
A celebration of her joyous life is being planned by her family in days to come.