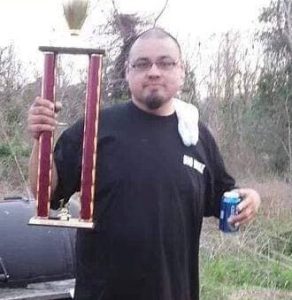 It is with profound sadness that the family of Michael Montes announce his passing on Friday, March 18, 2022 at the age of 46 years.
Left to cherish his memory are his sons, Michael Montes, Jr. (Mariah) and Martin Montes; daughters, Abigail Montes and Milinda Montes; sisters, Melissa Rocha (Pete), Marina Montes (Wilmer), and Angie Ambriz; brothers, Mario Montez (Vickey) and Matthew Montes; and numerous nephews, nieces, great-nephews, and great-nieces.
He was preceded in death by his parents, Cayetano and Esperanza (Bautista) Montes; sisters, Mona Martinez and Magda Montes; and brother, Marcus Ambriz
Although Michael faced various health issues, he maintained his sense of humor and was quick with a story to make you laugh.  He had a love and passion for cooking and won several awards for his BBQ, but nothing was more important than his love for his children and family.
Family will receive friends and guests on Wednesday, March 23, 2022 at Crowder Funeral Home in Dickinson from 5:00pm to 8:00pm.  Funeral service will be held on Thursday, March 24, 2022 at 11:00am also at Crowder Funeral Home.  Interment will follow at Mt. Olivet Catholic Cemetery in Dickinson, Texas.
Pallbearers are Michael Montes, Jr., Martin Montes, Juanito Bautista, Reuben Juarez, Gabriel Castillo and Cristian Reyes. Honorary pallbearers are Wilmer Zelaya, George Torreros and Miguel Martinez.