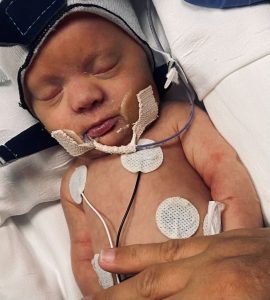 Hudson Rhys Morton was born March 14, 2022 to his devoted parents Joshua Morton and Angela Ware. During his 10 short days on this earth, Hudson touched the lives not only of his family and family friends, but also an entire community who was prepared to support and advocate for him for a lifetime.
While Hudson's life was brief, he showed all who knew him what a strong spirit he had, and how to cherish each day we are given. His life was a gift that we will never forget, and we will spend a lifetime living each moment to the fullest in his honor.
In addition to his loving parents, Hudson is survived by his brothers Tony Ware, Aiden Ware and sister Alina Stuckey. He will also be sincerely missed by his grandparents Peggy & Larry Burks, Elizabeth Kyle, and Lori Morton. Aunts Meme Kyle, Jennifer Sumrall, and uncles Keith Sumrall and Stan Morton. Hudson was escorted through the gates of heaven by his grandfather Jerry Morton and uncle Daniel Stuckey.