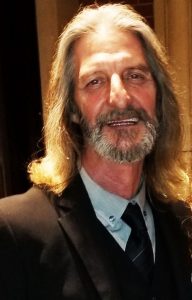 Kenneth E. Fuller, lovingly known as Ken or Kenny, passed away at the age of 62 in Houston, Tx on January 14, 2022.He was born in Harrisburg, Pennsylvania as the 3rd of 4 sons to Ben and Clara Viola (Campbell ) Fuller.
Kenny adored music, it was in his soul. He moved to Nashville, Tennessee in 1990 and became a published songwriter, recording two albums. He performed with many country artists, including Earl Thomas Conley, Doug Stone, David Frizzell, and at the country music Hall of Fame. He later would become a professional tour bus and truck driver, in addition to his already many talents as a welder, carpenter, and master mechanic. His travels led him to every corner of the 48 contiguous states, with over a million miles traveled with zero incidents leading to numerous safety awards. Ken was so well regarded in that nature that people claimed they wouldn't go if he wasn't driving. At one of the shows, a very special one, he met the love of his life, Jeanie Rochelle. In 2012 they married and settled in Dickinson, Texas and created a new a beginning together. He continued to play music for family and friends with the same passion and love he always had. He was an amazing Husband, Dad, Papa Bear, Pappy Ken and Uncle Kenny. He left a lasting impression on anyone he met. The entire family couldn't wait until the next time they could see him. Kenny was a shining light of laughter and love, who will forever be in our hearts.
He is survived by his loving wife, Jeanie Rochelle Fuller of Dickinson, Tx, 2 brothers and 3 sisters in law, David & Larelle Fuller of Harrisburg, Pa, Gary and Cindy Fuller of Harrisburg, Pa, Joyce Fuller of Duncannon, Pa, his children, Kenny Jr & Dani Fuller of Nashville, Tn, Tammy & Mike Brown of Mechanicsburg, Pa, and Kimberly Buckley of Lebanon, Tn, 7 grandchildren, 1 great grandchild, many nieces and nephews, and extended family and friends that all meant the world to him.
Kenny was preceded in death by his parents, Ben and Clara, brother, Paul Fuller, mother to his children, Luella Fuller, and one granddaughter, Bridget Boyd.
A memorial service will be held at 3pm Friday, January 21, 2022 at Crowder Funeral Home, 851 FM 517 Rd. West, Dickinson, Tx. Reception immediately following at Kenny & Rochelle Fuller's home.
Serving as pallbearers will be Kenny Fuller, Jr., Ben Fuller, Cary Blair, Glenn Midkiff, Rusty Midkiff, Mike Brown and Brandon Brown.
Graveside services will be held at 2pm Saturday, January 22, 2022 at Kirbyville Cemetery, Shaw Guy Road, Kirbyville, Jasper County, Tx.