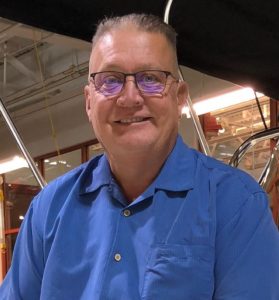 Al Thomas Wilson, 58, of Galveston, Texas passed away peacefully on January 11, 2022. Al was born August 21,1963 in Galveston to loving parents, William B. and Josephine G. Wilson.
Al is preceded in death, by his parents as well as his grandparents, Roman and Maria Perez and Albert and Julia Ann (Keseljevich) Wilson in addition to numerous loving uncles, aunts, and cousins.
He is survived by his beloved, Tammie Kennedy and rescue baby Yoti, his sisters, Rhonda Gibson and husband, Richard, and Julia Wilson; nieces, Brittany Gibson, Madison Davis and husband, Jordan; great niece, Adalynn Kay Davis; aunt, Janie Craig and husband, Jason; uncle, Silberio Gonzalez and wife, Hope; aunts, Harriett (Bitsy) "Wilson" Muse, Hilda Wilson, Margaret Wilson; uncle, Walter Wilson and wife, Linda.
He is also survived by his uncle, Max Wilson.
Also, left behind to cherish his memory are many loving cousins and extended brothers and sisters, that Bubba called family.
It's been one Hell of a Ride….
Crowder Funeral Home, 851 FM 517 Road West, Dickinson, Texas 77539 will be hosting the wake on Thursday, the 20th of January from 5pm to 7pm.
In lieu of flowers, please consider donating to Friends of Bayou Animal Services, Inc., 3100 Deats Rd., Dickinson, Texas, 77539