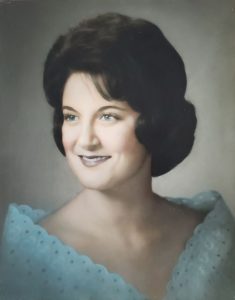 Emma Elizabeth "Liz" Watkins, a loving wife, mother, grandmother, and friend died of natural causes in her home in Dickinson, Texas on March 14, 2022 at the age of 77 with her husband of 55 years by her side.
Liz was born in Bay City, Texas in 1944 to John Wesley Annis and Minnie Clara Yeamans. She attended Sam Houston State University and worked as a secretary at Gulf Coast Waste Disposal Authority.
Liz was a heartwarming soul who spread love and joy to everyone she met. She was an avid gardener who loved to nurture and watch plants grow. Her favorite place to visit was the beach with the sound of the waves, the smell of the salt air on the breeze and the feel of the sand between her toes. She was a devoted Episcopalian and found so much meaning for life through her belief in God. She will be deeply missed by her family, friends and all that knew her.
Liz is survived by her husband, Thomas Watkins Sr.; her children, Thomas Watkins Jr. and Brian Watkins; her sister Margaret Sue Burge; her grandchildren Carly, Jayne, Hayden, Jackson, and Annisten; and several cherished nieces and nephews. She is predeceased by her parents and grandparents.
A memorial service is scheduled for 11:00 am on March 24, 2022 at Holy Trinity Episcopal Curch on Highway 3.  Reverend Vivian will officiate.  Donations can be made to the Alzheimer's Association on behalf of Liz Watkins.  Flowers, donations and condolences can be offered at 4613 TX-3 Dickinson, Texas 77539.