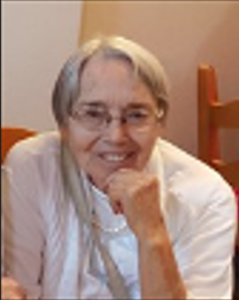 Winnie Ruth Dawson was born June 29, 1927, in Huntland, TN, and passed away peacefully in her sleep September 12, 2022, in Columbia, MO at the age of 95. She was surrounded by the loving care of her son Bob, daughter Barbara, and devoted caregiver Lisa. Winnie Ruth had formerly resided in Pearland, TX and La Marque, TX where she attended First Baptist of La Marque, Shady Crest Baptist Church as well as New Harvest Church. Winnie Ruth briefly served her country as an enlisted WAVE at the Naval base in Chicago where she met her husband, and they began their 59-year adventure together. Later Winnie Ruth retired from LMISD as an Educational Diagnostician after years of service to handicapped students. Upon retirement, she became a master gardener and spent the rest of her life planting trees.
Winne reunites with her late husband, Earl B. Dawson; parents, James and Susan Isbell; sisters: "Suzie" Enzena Doerschuck, Dorothea Ophelia Nations, Katherine Saylor, and Francis Smothers; brothers: James Franklin Isbell, Jr., Howard Isbell, Bill "William" Isbell, and Paul Isbell.
She leaves behind her daughters: Barbara Gail Dawson, Diana Lynn Dawson, spouse Elizabeth Hallow, and Patricia Ann Dawson-Black, husband Randy; son, Robert Earl Dawson; grandchildren: David Randall Black, Kira Alexis Black, William Dawson-Hallow, Alice Isbell Dawson-Hallow and step-grandson Chris Mordecai "Cai" Black; Ruth's baby sister, Ann Scott; as well as her survives in Tennessee.
A visitation will be held on Sunday, September 18, 2022, from 4 p.m. to 6 p.m. at Crowder Funeral Home in Pearland. Funeral service will begin Monday, September 19, 2022, at 1 p.m. in the chapel of Crowder Funeral Home. Burial to follow at Forest Park East Cemetery in Webster, TX.