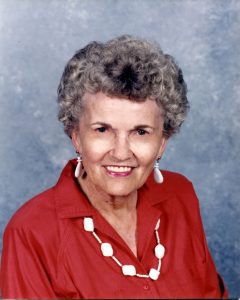 Wilma V. Collins, 98, of Dickinson, passed away December 12, 2017, in Houston.  Wilma was born December 18, 1918, to Ollie and Charles Owen in Star City, Arkansas.  She was a bookkeeper for Industrial Materials in Galveston for over 30 years and a Senior Friends Volunteer at Clear Lake Regional Medical Center for many years.  Wilma was a loyal member of the First Baptist Church of Dickinson.  Wilma was preceded in death by her husband Carl Collins.
Wilma is survived by her daughter Kaye Collins in Wimberley, TX; sons Jerry Collins of Dickinson, TX and Phil Collins of League City, TX; sisters Madelle Causby and Nella Brown; four grandchildren and four great-grandchildren.
A private funeral will be held.