Willie Ray "Fat Boy" Sanders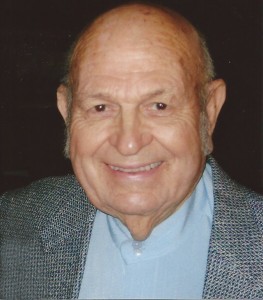 Willie Ray "Fat Boy" Sanders age 86, of Hemphill, Texas passed away Sunday, October 25, 2015 at Serenity Gardens in Dickinson, Texas. Ray was born January 22, 1929 in Powhatan, LA to Willie Tom Sanders and Daisy Viola Taylor Sanders. He was an active member of Community Fellowship Church in Hemphill, Texas.
He was an avid fisherman and loved to hunt. He graduated from Van High School in 1948 and was very active in the sports program. He played football, basketball and baseball as a proud Van Vandal. After high school, he went into business and was co-owner of Edmonson-Sanders Service Station. He served in the US Army as a Corporal and was stationed in Georgia during the Korean Conflict. After he was discharged, he returned to Texas and was then employed by The Monsanto Chemical Company in 1953. He and his wife Patricia lived in La Marque. After retirement they built a home on Lake Toledo Bend. He lived there until they returned to the Galveston County area in 2012.
He is preceded in death by his parents, step-father, Clovis R. McKissick, brother, Edmund Sanders, son-in-law, Larry Delgado, granddaughter, Brook Nicole Sanders and grandson, John Michael Fox.
Survivors include his wife of 41 years, Patricia Sanders, children Carl Sanders (Hilda), Craig Sanders (Stacy), Karen Sanders Hupe (Gary), Shelley Tholcken (Ronny), Michael Fox (Cheryl), Kay Calhoun (Steve), Dee Delgado, Tim Fox (Debbie); 12 grandchildren and 16 great grandchildren.
Visitation will be Tuesday, October 27, 2015 from 6:00pm – 8:00pm at the chapel of the Crowder Funeral Home in Dickinson, Texas. Funeral Service will be at 10:30am Wednesday, October 28, 2015 at the Crowder Funeral Home in Dickinson with Pastor B. T. Skelton officiating. Burial will follow at Galveston Memorial Park in Hitchcock, Texas.
Pallbearers will be Carl Sanders, Craig Sanders, Gary Hupe, Steve Calhoun, Timothy Fox and Michael Fox. Honorary Pallbearer will be Joe Lunsford.
The family would like to say a special thank you to Hallmark Hospice and to Serenity Gardens for exemplary care.