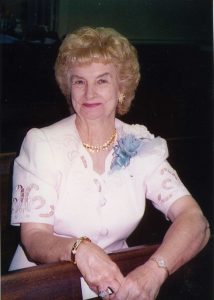 Willie Mae Micheletti, 94, of Santa Fe, Texas, passed away on December 27, 2022. Willie Mae was born December 21, 1928 in Galveston, Texas to parents, Frederick Keilhey and Eldora Bartzen Keilhey.
Willie Mae was preceded in death by her parents. She leaves behind to cherish her memory, her loving husband, Andrew Micheletti; daughters, Barbara Boothe and husband, Terry and Karen Pelton and husband, Vernon; son, Mark Micheletti and wife, Jenny. Willie Mae had seven grandchildren, nineteen great grandchildren and two great great grandchildren who all loved their Nanna.
Willie Mae was an energetic and loving person all her life.  After graduating from high school, she attended Hardin Simmons University.  She returned home to marry the young man, Andy, who lived across the street.  They were married for seventy-four and a half years. During those years, Willie Mae was a busy stay at home mom who was very active as PTA President, Volunteer at Our Lady of Fatima School, President of the Altar Society and CYO Advisor.  In addition, she was an accomplished bowler. Willie Mae enjoyed traveling and she and Andy took eight cruises, spent twenty-two days in Europe and traveled all over the United Stated and Canada RVing.   She always enjoyed being a hostess and playing card games which she continued to do until her early 90s.
In her honor, there will be a Visitation on Wednesday, January 4, 2023 at 12:00 pm followed at 1:00 pm by a Service and Rosary at Crowder Funeral Home Chapel in Dickinson, Texas. This event will be followed by a graveside service at Mt. Olivet Catholic Cemetery also in Dickinson, Texas. Pallbearers are Paul Pelton, Pat Pelton, Fred Pelton, Lawson Boothe, Morgan Micheletti, Michael Micheletti. Honorary pallbearer is Tara Boothe Gorelick.