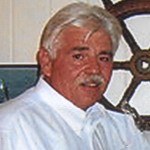 William Dent McMillan, 62, of Marshall, Michigan passed away on Tuesday, October 28, 2014 at his residence. He was born November 3, 1951 in Galveston, Texas. William was in the United States Navy in 1972 – 1975. He loved Nascar, Antique cars, fishing and spending time with his family.
He is preceded in death by his parents, Mildred Lankford and Dennis R. Lankford, Sr. and William Duval "Sonny" McMillan, Jr.
He is survived by his wife Pamela Burrows McMillan, son Chris McMillan; sisters; Mary R. Waldrop, Rene Denny (Roy, Jr.), Shirley Beazley (Billy), Debbie Cantrell (Wayne), Brenda Spears (Glenn); brothers; Michael E. McMillan and Dennis R. Lankford, Jr.; sisters-in-law; Jeanie Robertson (Chuck) and Cindy Hansen, (Ron) and numerous nieces, nephews, aunts, uncles and cousins; his extended family Mike and Sandy Rodriquez and their children Rebecca, Trevor and Karley and Man's Best Friend his dog Buddy.
A visitation will be Sunday, November 2, 2014 from 5:00pm – 8:00pm at the James Crowder Funeral Home in La Marque. Funeral service will be on at 10:00am on Monday, November 3, 2014 at the Crowder Funeral Home. Burial will follow at Galveston Memorial Park in Hitchcock, Texas.
Pallbearers will be Chris McMillan, Brandon Briggs, Aubrey Gutierrez, Ryan Johnson, and Jason Waldrop. Honorary Pallbearers are Roy Denny Jr., Michael McMillan, Dennis R. Lankford, Jr. and Roy Denny III.
In lieu of flowers Memorials may be made to the Oaklawn Hospice in Marshall, MI.