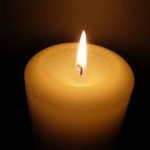 William Eugene Moss, passed from this life on to eternal life, December 10, 2015.
William was born January 23, 1925 to proud parents Robert and Martha Moss, in Whitewright, Texas.  He retired from the construction industry and resided in Arlington, Texas with his loving wife, Etta May Moss. He was a proud husband, father, grandfather, and great grandfather. He is preceded in death by his parents, and sons, Ronald Moss, Richard Moss, and Robert Moss, brothers, Dudley Moss, and Charles Moss, and sister Margaret Voekel.
William leaves to cherish his memories, his wife Etta May Moss, daughter, Glenda Cox and husband Bill, a son, Bob Brewer and wife Susan, and daughter, Cindy Crisp, as well as a brother, Travis Moss. He also leaves seven grandchildren and eight great grandchildren.
A visitation will be held at Crowder Funeral Home Chapel, Monday, December 14, 2015 from 7-9 pm with a service to follow on Tuesday, December 15, 2015 at 1:00 pm.Internment following at Galveston Memorial Park Cemetery in Hitchcock, Texas.