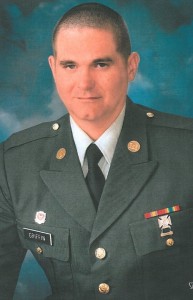 William Cole Griffin, a longtime Houston resident, passed away on March 17, 2016 at the age of 40. Officer Griffin was born in Rockingham, NC to William and Pamela Griffin.  He has always claimed that he wasn't born in Texas, but he got here as fast as he can.
Cole was a graduate of Dulles High School, where he was part of the JROTC for 4 years and attended Officer Candidate School at Lackland AFB in San Antonio, TX. One of Cole's most favorite things when he was younger was attending Space Camp when he was in 7th grade.
After graduation, Cole served with the Army Reserves for several years, and eventually returned to Active Duty in 2007, where he served with distinction with the 2-12, 1st Calvary Division in the Iraq Campaign overseas. Continuing a life of service, Cole joined the ranks of Peace Officers in 2012 with the City of Arcola. He wished nothing but to protect those that needed protecting and defending against all enemies. 
Cole is preceded in death by his grandparents and his mother, Pam.  He is survived by his wife, Stacey; children, Adrianna and Alex; his father, William; brother, Justin; aunts, Donna and Tonda; uncles, Rick and Tom; several cousins, a nephew and two nieces.
A visitation will be Thursday, March 24, 2016 from 11am to 1pm at First Baptist Church of Pasadena with a service at 1pm. Interment will follow at Houston National Cemetery.