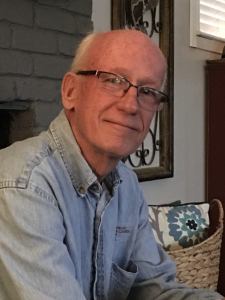 William Carl McCord, 75, loving husband, father, and grandfather, a 51-year resident of Friendswood, Tx, passed away with his wife, Sherry, by his side on January 19, 2023 from Alzheimer's Disease. Carl was born in Galena Park, TX on December 25, 1947. Carl served his country in the US Air Force from 1966 to 1970, at RAF Wethersfield, England, where he met and married the love of his life, Sherry, on June 21, 1968.
He was an employee of Lyondell-Citgo of Deer Park, Tx for more than 25 years and then, after that, of Houston Dynamics for another 5 years.  All the while running his own business from home, CBS Machine, for 15 years. Carl was a member and volunteer of New Hope Church Friendswood.
Carl reunites with his son Brian; his parents Hiram and Oleta McCord; and sisters: Tana Allen and Sharon Holley.
He leaves behind his wife of 55 years, Sherry; daughter, Stacy de la Rua; daughter-in-law, Heather McCord; grandchildren, Austin de la Rua, Wesley McCord, Randall McCord, step grandkids James Kleb, his husband Darin Kleb, John Pousson; and great-grandchild, Benjamin Pousson, sister, Rhonda Meyer, husband Ron Meyer; and brothers: Kevin McCord and Kary McCord; brother-in-law and sister-in-law, Gordon J. Darling, Jr. and Elina Darling. He is also survived by numerous nieces, nephews, family and friends, and his dog, Brady.
Carl enjoyed fishing, old cars, fast boats, a good golf outing, and spending time with his family and friends.  He also enjoyed a cold Bud Light at the many great parties around the McCord's pool and bonfires in the back field.
Family was everything to him.  According to Austin, Wesley and Randall, Papa could fix anything,
Dad had many memorable sayings.  If at any time we said we 'couldn't' do something, his answer was always 'can't never could until he tried'.  This was his way of encouraging us to at least try something before deciding that we were unable.
He was always willing to lend a helping hand whenever and wherever needed – no questions asked.
We want to extend our sincere gratitude and acknowledge our pastor, Mike Cervantes, at New Hope Church, the hospice team at Faith Community Hospice; nurse, Denise, aide, Priscilla, and social worker, Doris.
A special thank you to Heather McCord for your loving care and compassion over the last several months.  You are truly a blessing and a lifesaver to our family.  Hope you know how much we love and appreciate you.
Special thank you also to our small group – thank you for the prayers, visits, food, and especially the friendship and love that we have for each other.
Memorial service will be February 4, 2023 at 1pm at New Hope Church Friendswood, 108 W Edgewood, Friendswood. TX  77546.
In lieu of flowers, please make memorial contributions to Alzheimer's Association or New Hope Church's building fund – www.newhopechurch.tv.